GRAND PRIZE WINNER
Rome Night Street
Gina Falcone
Potomac, Md.
Photographic equipment: Nikon d3400
           I captured this moment during an evening stroll (and quest for gelato) on my family's spring 2017 trip to Rome. Pictured here is my father, Joe Falcone, and a street musician playing "Love Theme for Nata" from Cinema Paradiso on his soprano saxophone. This soundtrack is a family favorite and it was sentimental to hear it being played as we took in the view of the Tiber River and the Vatican lit up at night.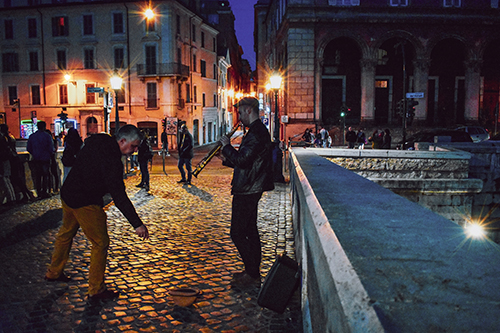 __________________
SECOND PLACE WINNERS
Lago Maggiore Boy on Bike
Anthony R. Masso
Juno Beach, Fla.
Photographic equipment: Nikon D750 50mm lens
On a recent trip to Lago Maggiore, I walked the back streets and saw beautiful images of all things made in Italy. But none struck me so much as this boy riding his bike in a narrow lane. What could be more "Made in Italy" than the beautiful Italian flag flying, or the artistic religious painting on the wall? Of course, what struck me most was the boy who was certainly made in Italy, racing down the street on his Italian bike! I had a split second to take just one shot and here is the result.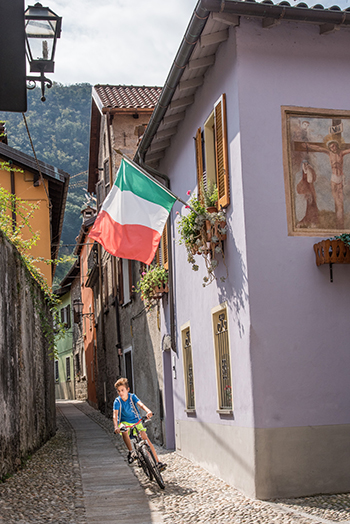 __________________
Film Set—Streets of Erice, Sicily
Joan Nova
Boynton Beach, Fla.
Photographic equipment: NikonD3200, f5.6, 60mm, 1/200, ISO 1600
While visiting Erice, Sicily, in October 2016, my friends and I happened on a film set. The location and backdrop was perfect for this sweeping WWII-themed movie, "In Guerra Per Amore," and it was very exciting to watch this movie being "Made in Italy."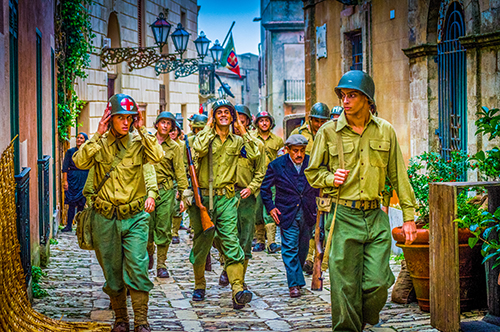 __________________
An Evening in Assisi
Anthony John Basil
Weirton, W.V.
Photographic equipment: Canon 80D DSLR Camera, Canon 50 mm F 1.8
Via Petrosa, Assisi, Italy—The result of traveling an unfamiliar road has an attractive mystery to it. Uncertainty that the destination will not yield an expected path can discredit its validity. Fortunately, a luminous, unknown road ahead will cultivate an imagination that is filled with a lucid vibrancy unlike any other. Our longing for an infinite desire and reaching ultimate satisfaction is continuously prompted by finite desires and limited wonders… Even those of which, that are made in Italy.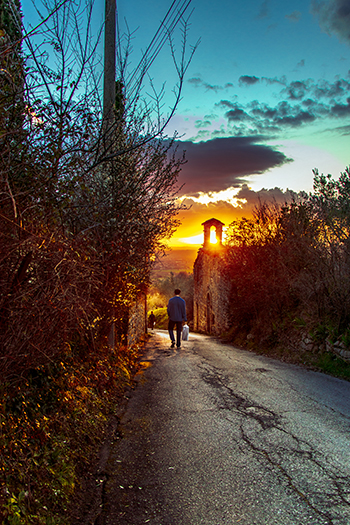 __________________
Vines and Land
Steve Bonasia
Hattiesburg, Miss.
Photographic equipment: iPhone 7
Taken while on a culinary and wine research trip to La Morra and Barolo, this statue is man-made but most definitely "Made in Italy." It represents a worker (al Vignaiolo) who was responsible for working the vineyards and harvesting the grapes that were "Made in Italy," creating the wonderful and delicious wines that identify the unique regions and the country! Sitting high above Piedmont, it is an amazing tribute to the hands that harvested the grapes that have brought so much enjoyment to the entire world.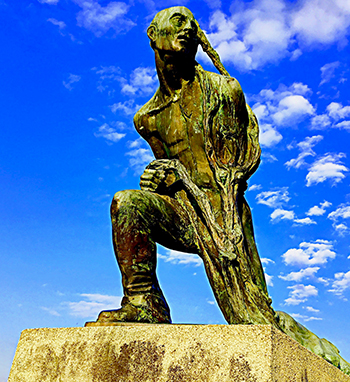 __________________
Measurements of Italian Time
Joseph De Francesco
Brooklyn, N.Y.
Photographic Equipment: iPhone 6s
Filadelfia, Calabria, Italy—My Uncle Domenico's Fiat 126 parked in front of a historic villa in the town piazza. A former Fiat test driver, Domenico assessed cars on Fiat's Lingotto rooftop in Turin—depicted in "The Italian Job." His skills, knowledge and dedication translated to maintaining his still functional 42 year old Fiat 126—a timeless classic embodying cultural and ancillary comforts to indulge the mind, spirit and senses. Understated elegance, practicality, with original vibrant Tiffany blue paint coat, are testaments to its grandeur. Candy for the eyes capturing "Made in Italy."