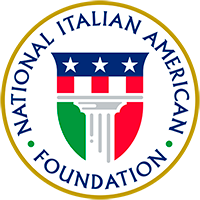 About

Join

Events

Programs

Culture

Support

The Russo Brothers Italian American Film Forum Announces
2021 Grant Award Recipients

FOR IMMEDIATE RELEASE

CONTACT:
Natalie Wulderk
nwulderk@niaf.org
+1-202-939-3117

---

(Washington, D.C. – April 12, 2021) – The National Italian American Foundation (NIAF) and the Italian Sons and Daughters of America (ISDA) are pleased to announce the 2021 grant award recipients for The Russo Brothers Italian American Film Forum. The Film Forum, led by AGBO's Russo Brothers and President of Creative, Angela Russo-Otstot, is an initiative to fund films depicting and exploring the Italian American experience.

Applicants from the United States, Italy, Canada and Spain submitted proposals generating a pool of traditional and contemporary topics explored in both creative and thoughtful ways. As a result of the high quality of this year's applications, competition for the grants increased significantly. For this reason, the Russo Brothers and AGBO encourage individuals whose submissions were not selected to consider reapplying for a grant next year.

"This year, we received nearly 200 grant applications, the most ever submitted for the Film Forum," said Anthony Russo.

"We're so impressed by the originality and ambition of the applicants' proposals," added Joe Russo. "They speak to the unexpected range of narratives flowing from the Italian American experience, which made the grant selection process extremely exciting."

"The quality and record-breaking number of applications this year resulted in a very competitive process," said NIAF Chairman The Honorable Patricia de Stacy Harrison. "The committee appreciates the talent and commitment demonstrated by the grant applicants through these powerful and diverse stories representing our Italian American heritage."

The eight applicants listed below have been selected to receive $8,000 each to fund their film projects. These grant recipients present a specific vision for the exploration of what we believe are truly interesting and dynamic themes. We are eager to see each of their films come to life in the coming months.

The 2021 recipients and the subject of their films are:

Zach and Naomi Baliva, whose film, Una Storia Nascosta, tells the tragic enemy alien story of Italians living in America during WWII.

Alessia Crucitelli, whose film, Leaving the Factory, focuses on the story of the mistreatment of Italian immigrant women factory workers, and their struggle to overcome oppression.

Peter Ferraro, whose film, Il Messaggero, relates how an immigrant's quaint story brings joy to an Italian village and its sister community 5,000 miles away.

Rosanne Limoncelli, whose story, Two Teresas, explores the relationship between two Americans of different generations and cultures whose friendship shows we have more in common than divides us.

Brandon Mather and Zach Laws, whose film Calzone's Piazza, spotlights a quirky, charming love affair that develops during a cable food network interview of a pizzeria owner.

Ann Potenza, whose story, The Feast of San Gennaro in LA, relates the recreation of the storied NY festival in Los Angeles as told through the eyes of the event organizers.

Rajeswari Ramanathan, whose documentary, Dr. Anthony Stephen Fauci, chronicles the life of America's Doctor, from his Italian American upbringing to his nationally renowned medical career.

Jeffery Santoro and Nick Santoro, whose story, BIG CITY, little italy, will document the history, culture, food and traditions of six important Little Italy's throughout our country.

The grant recipients will submit their completed films, and three finalists will be invited and have their films screened during NIAF's 46th Anniversary Gala Weekend, with the winning film announced on Saturday, October 23, 2021, at the Gala Dinner.

The Russo Brothers are grateful to NIAF and the ISDA for their support in this endeavor. Furthermore, they kindly thank all the applicants and finalists for their submissions and look forward to reading more in 2022! For more information on The Russo Brothers Italian American Film Forum, please visit https://www.niaf.org/programs/russo-bros-film-forum/.

---

ABOUT THE NATIONAL ITALIAN AMERICAN FOUNDATION
The National Italian American Foundation (NIAF) is a non-profit, non-partisan organization dedicated to preserving, promoting and protecting the Italian American heritage and culture. Based in Washington, D.C., it is the major advocate for nearly 25 million Italian Americans, the nation's fifth largest ethnic group. To learn more about the Foundation and to become a member, please visit www.niaf.org.

ABOUT THE ITALIAN SONS AND DAUGHTERS OF AMERICA
For 89 years, the Italian Sons and Daughters of America (ISDA) has kept a strong sense of community alive and thriving to become one of the largest and most financially successful Italian American organizations in the country. The ISDA unites Italian Americans across states nationwide to celebrate our culture and preserve the traditions our ancestors brought with them from Italy. To learn more about the ISDA and become a member, please visit www.orderisda.org.

ABOUT AGBO
Founded by award-winning, record-breaking directors Anthony and Joe Russo, AGBO is an artist-led entertainment company focused on creating content borne of innovative story universes across film, television, and digital platforms. Headquartered in downtown Los Angeles, AGBO was founded in 2017.