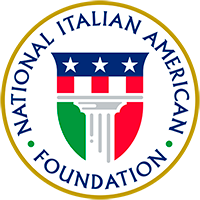 About

Join

Events

Programs

Culture

Support

The Russo Brothers Italian American Film Forum Announces 2020 and 2021 Grant Finalists

FOR IMMEDIATE RELEASE

CONTACT:
Gabriella Mileti
gmileti@niaf.org
+1-202-939-3116

---

(Washington, D.C. – October 14, 2021) – The National Italian American Foundation (NIAF) and the Italian Sons and Daughters of America (ISDA) are thrilled to announce the 2020 and 2021 grant finalists for The Russo Brothers Italian American Film Forum. The Film Forum, led by AGBO's Russo Brothers and President of Creative, Angela Russo-Otstot, is an initiative to fund films depicting and exploring the Italian American experience for the benefit of future generations.

The number of applications was impressive this year, and the committee was inspired by the variety of interesting topics covered within the proposed films. As always, we encourage individuals whose submissions were not selected to consider reapplying for a grant next year.

Each year, the committee selects eight filmmakers to each receive $8,000 to fund their film projects. Out of the eight grant recipients, three filmmakers were selected to be finalists.  The selection committee believes each finalist presents a specific vision for the exploration of truly dynamic themes in their films. The winning films from each year will be announced during the NIAF 46th Anniversary Gala Awards Dinner on October 23rd at the Omni Shoreham Hotel in Washington, D.C.  All six films will be screened during the following days after the Gala, a virtual event that is free and open to the public.

The three 2020 finalists are:

Amy Campione, whose film Yes Chef, creates the story of an award-winning chef who struggles to define her identity.

Laura Caparrotti, whose film, Tutti in Scena!, documents the history of Italian American theater.

Charles Geno Marsala, whose film, Who Killa da Chief?, provides a plausible explanation as to who killed the police chief whose death resulted in the unjust lynching of eleven Italian immigrants in New Orleans in 1891.

The three 2021 finalists are:

Zach and Naomi Baliva, whose film, Potentially Dangerous, tells the tragic enemy alien story of Italians living in America during WWII.

Brandon Mather and Zach Laws, whose film, Calzone's Pizza, spotlights a quirky, charming love affair that develops during a cable food network interview of a pizzeria owner.

Jeffrey Santoro and Nick Santoro, whose film, BIG CITY, Little Italy, documents the history, culture, food and traditions of six important Little Italy's throughout our country.

Congratulations to all! NIAF and ISDA look forward to announcing the winners during the NIAF 46th Anniversary Gala dinner.  Virtual screenings of all six films will take place October 25 through November 4.  Information about the screenings will be available on the NIAF website.

The Russo Brothers are grateful to NIAF and the ISDA for their support in this endeavor. Furthermore, they kindly thank all the applicants and finalists for their submissions and look forward to reading more in 2022! For more information on The Russo Brothers Italian American Film Forum, please visit www.niaf.org/filmforum.

---

ABOUT THE NATIONAL ITALIAN AMERICAN FOUNDATION

The National Italian American Foundation (NIAF) is a non-profit, non-partisan organization dedicated to preserving, promoting and protecting the Italian American heritage and culture. Based in Washington, D.C., it is the major advocate for nearly 25 million Italian Americans, the nation's fifth largest ethnic group. To learn more about the Foundation and to become a member, visit www.niaf.org.

ABOUT THE ITALIAN SONS AND DAUGHTERS OF AMERICA

For 88 years, the Italian Sons and Daughters of America (ISDA) has kept a strong sense of community alive and thriving to become one of the largest and most financially successful Italian American organizations in the country. The ISDA unites Italian Americans across states nationwide to celebrate our culture and preserve the traditions our ancestors brought with them from Italy. To learn more about the ISDA and become a member, visit www.orderisda.org.

ABOUT AGBO

Founded by award-winning, record-breaking directors Anthony and Joe Russo, AGBO is an artist-led entertainment company focused on creating content borne of innovative story universes across film, television, and digital platforms. Headquartered in downtown Los Angeles, AGBO was founded in 2017.