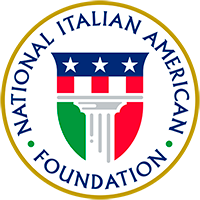 About

Join

Events

Programs

Culture

Support

Seattle Fetes Italian and Italian Americans at Festa Luncheon

FOR IMMEDIATE RELEASE

Contact:   Elissa Ruffino (NIAF) 202/939-3106 or elissa@niaf.org

---

Seattle Fetes Italian and Italian Americans at Festa Luncheon

Following last year's successful Festa Italiana luncheon, Seattle's local print and broadcast media gathered at the Fairmont Olympic Hotel to network with colleagues and meet prominent local Italian Americans. The September 23 luncheon kicked off the 21st annual Italian Festival in downtown Seattle, September 27-28. The journalists were hosted by Gerard V. Centioli, a National Italian American Foundation (NIAF) area coordinator for the State of Washington and president and CEO of ICON LLC in Seattle. Centioli was joined by Jeffrey M. Capaccio Esq., a NIAF board member and regional vice president for the Far West Region. The journalists learned about NIAF's mission and the exciting events planned for the festival weekend. Julie Francavilla, morning and noon anchor at KIRO-TV (CBS), served as media host. In 2005, Francavilla gave the keynote address at the luncheon.


Gerard V. Centioli, NIAF area coordinator, Fabrizio Marcelli, Italy's consul general, Julie Francavilla, anchor at KIRO-TV (CBS), Jeffrey M. Capaccio, Esq., NIAF regional vice president

New to the program this year Fabrizio Marcelli, Italy's Consul General from San Francisco, made his first visit to Seattle to meet local constituents at the luncheon. He was joined by former Governor Albert D. Rosellini, the oldest living governor (98 years young) and the first Italian American governor west of the Mississippi.

The keynote speaker, Dino Rossi, Republican gubernatorial candidate, described his childhood struggles: the grandson of an Italian American coal miner and the seventh child of a public schoolteacher and a beautician who worked her way out of public housing. Defying the "naysayers" he encountered throughout his life, he had a successful career in real estate and politics. He believed anything is possible if you put your mind to it. Mr. Rossi's grandfather traces his origins to Taranta Peligna in Abruzzo, the same town as Gill Centioli's mother.

Each year Festa Italiana and The Italian Club of Seattle honor an outstanding local Italian American with the annual Gill Centioli Memorial Award. In 1997, Rosellini was the ninth recipient of the Gill Centioli Award. This year's award was presented to Brigadier General Dominick V. Driano (U.S. Air Force, Ret.) and an attorney commended by the Washington State Bar Association for 50 years of public and private practice, by Gill Centioli's son Gerard.