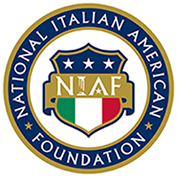 About

Support

Membership

Programs

Culture

Pace Salutes U.S. Troops at NIAF Gala

FOR IMMEDIATE RELEASE 

Contact:   Elissa Ruffino (NIAF) 202/939-3106 or elissa@niaf.org

---

By Gerry J. Gilmore
American Forces Press Service

Marine Gen. Peter Pace, chairman of the Joint Chiefs of Staff, meets with Italian media Oct. 15 prior to the start of the National Italian American Foundation's annual dinner and awards ceremony, held in Washington. Pace, the son of an Italian immigrant, received the NIAF's special achievement award for military service. Photo by Gerry J. Gilmore

WASHINGTON, Oct. 17, 2005 – All Americans enjoy their freedoms today "because there are thousands and thousand of troops protecting us," the U.S. military's top general said at the National Italian American Foundation's annual awards dinner here Oct. 15.

The NIAF recognized Marine Gen. Peter Pace for his distinguished military service. The son of an Italian immigrant, Pace recently became the first Marine appointed as chairman of the Joint Chiefs of Staff. The general's name is pronounced "PAH-chay" in Italian, which means "peace." Pace was among four Italian-Americans honored at the organization's awards ceremony, which followed the dinner.

America's servicemembers make it possible to hold such an event while enabling "this country to live free," Pace told more than 2,000 dinner guests who'd traveled to Washington from points across the United States and Italy to attend the event. Today, 2.4 million Americans are in uniform and "many of them are of Italian descent," Pace said. And, he pointed out, 23 Italian-Americans have received the Medal of Honor, the nation's highest military award.

Pace graduated from the U.S. Naval Academy in 1967 and is a Vietnam War combat veteran. Today, Pace has 38 years of active duty that include important leadership posts in Asia, Africa and Latin America.

The four-star general, who'd previously served as the vice chairman of the Joint Chiefs, said he's served alongside "some incredible young men and women" during his career.

Today, thousands of U.S. military members are fighting terrorism in Afghanistan and Iraq. Some pay the ultimate price for defending freedom, while others return with visible scars of war.

The United Service Organizations of Metropolitan Washington invited a group of U.S. soldiers receiving treatment at Walter Reed Army Medical Center to attend the Italian-American award dinner, USO of Metropolitan Washington President Elaine Rogers said.

Army Capt. Marc A. Giammatteo, 27, from West Hartford, Conn.; Army Sgt. Michael L. Buyas, 31, from Lake Chelan, Wash.; Illinois National Guard Maj. Tammy Duckworth, 37, from Hoffman Estates, Ill.; and Illinois National Guard Capt. Troy V. O'Donley, 33, from Bloomington, Ill.; all received wounds during combat duty in Iraq.

Rogers said some of the servicemembers in the group have had limbs amputated. Yet, "their recovery has been just absolutely incredible," she said. Each one of the wounded soldiers is "a true hero," Rogers said.

Duckworth and Buyas remain upbeat despite the loss of their lower limbs. Giammatteo and O'Donley are equally confident after extensive treatment for severe leg injuries and other wounds.

Duckworth was piloting a Blackhawk helicopter just north of Baghdad on Nov. 12, 2004, when an enemy-fired rocket-propelled grenade struck her aircraft. After almost a year of treatment and rehabilitation at Walter Reed, Duckworth is learning to walk again, she said.

"I'm going to get back into that cockpit and fly again someday," she vowed. Duckworth entreated soldiers serving in Iraq and other combat zones to "wear your (protective) gear, because that's what saved my life."

She also urged servicemembers to "stick together.

"You're a team," she said. "You work together as a team, and the training will see you through."

Buyas was riding in a Stryker vehicle on patrol in Mosul, Iraq, around Christmas 2004 when the truck encountered an improvised explosive device. The explosion caused him to lose both of his legs.

The sergeant said he now walks for 10 hours at a time with the aid of prosthetic devices during rehabilitation sessions at Walter Reed. "Someday, it will be 24-7, hopefully," he said. Buyas said he plans to study law after he is medically retired from the Army.

Buyas said the wounded soldiers he's met at Walter Reed are determined to "do something" and move forward, rather than to "sit back and hate life."

O'Donley said he was recently wounded in Iraq while riding "shotgun" with a supply convoy security detail in the southern part of the country. An enemy ambush caused the vehicle ahead of his to stop suddenly, he said, and his five-ton truck crashed into the other vehicle at 45 or 50 mph.

O'Donley said the impact broke both of his legs and dislocated his hip and wrist. He said his legs, particularly his left leg, have nerve damage and that he'll undergo a total hip replacement.

Giammatteo said an enemy-fired rocket-propelled grenade took off the outside half of his right leg from the knee to the ankle during a patrol near Haditha, Iraq, on Jan. 8, 2004. Giammatteo has kept his leg after more than 30 surgeries.

"As long as I can walk on it with a fused ankle, that's the goal, right now," Giammatteo, who's an Italian-American, said. The NIAF dinner "is a fantastic event," he said.

Italian-American actor and entertainer Tony Danza, the evening's master of ceremonies, was among many luminaries that attended the NIAF event.

During an interview after the event concluded, Danza said he supports U.S. military members serving in Afghanistan and Iraq. "Thank God for the military; they are keeping us alive, he said. Danza added that his "heart goes out" to all servicemembers and their families.

During his remarks, Pace thanked the 30-year-old NIAF "for all you do" for Italian-Americans.

The general also said the sacrifices of U.S. military men and women serving in the global war on terrorism aren't being made in vain.

There are those in the world, Pace pointed out, who'd like to see the end of America and its system of freedom and democracy.

"And we say to them: 'Not on our watch,'" he said.

Other awardees at the NIAF event included: Paul S. Otellini, president and CEO of Intel Corp.; Michelle Peluso, president and CEO of Travelocity; and Ambassador Peter F. Secchia, chairman of the board at Universal Forest Products Inc., managing partner of SIBSCO LLC, and former U.S. ambassador to Italy.

The U.S. population now stands at about 280 million citizens. The nation's 25 million Italian-Americans make up the nation's fifth-largest ethnic group. The non-profit, non-partisan NIAF was established in Washington in 1975 to preserve and protect Italian-American heritage and culture.