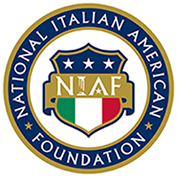 About

Support

Membership

Programs

Culture

Official Statement on the Death of Peter Wallace Rodino, Jr.

FOR IMMEDIATE RELEASE 

Contact:   Elissa Ruffino (NIAF) 202/939-3106 or elissa@niaf.org

---

Attribute to Dr. A. Kenneth Ciongoli, Chairman, National Italian American Foundation (NIAF) 

On behalf of the National Italian American Foundation (NIAF), we mourn the loss of Peter W. Rodino, Jr., a great supporter and friend of the Foundation, who became a symbol of integrity to our nation and to Italian Americans.

As one of the NIAF's founders, Peter Rodino dedicated much of his time to our mission while he served on the foundation's board of directors from 1975 through 1998.

He will be remembered for his great patience, caution, enormous generosity and fairness during his career in public service.

Washington, DC
May 11, 2005

The National Italian American Foundation (NIAF) is a non-profit, non-partisan foundation dedicated to promoting the contributions of Italian Americans. The Foundation has a wide-range of programs that provide scholarships and grants, conferences and cultural seminars. Visit our website at www.niaf.org.