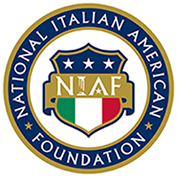 About

Support

Membership

Programs

Culture

NIAF Presents Teacher of the Year Award at Annual Convention Weekend in Nation's Capital ** Florida Educator Maryclaire Curmaci-Singer to Receive Award**

FOR IMMEDIATE RELEASE 

Contact:   Elissa Ruffino (NIAF) 202/939-3106 or elissa@niaf.org

---

(WASHINGTON, DC – September 28, 2005) Maryclaire Curmaci-Singer of Pembroke Pines, Fla., a teacher of Italian language and culture at Everglades High School in Miramar, is the recipient of the third annual National Italian American Foundation (NIAF) Teacher of the Year Award. Singer will be recognized at the NIAF's 30th Anniversary Awards convention weekend, October 14-15 at the Hilton Washington & Towers, Washington, D.C.

The NIAF Teacher of the Year Award honors an educator at the elementary or secondary level who has shown dedication to the teaching of Italian and demonstrates an ability to inspire a love of learning the Italian language and culture in students of any background.

"Teaching Italian allows me to inspire my students with the love and appreciation for the Italian language and culture that I acquired from my grandparents," Curmaci-Singer said.

Curmaci-Singer will receive a continuing education stipend for study in Italy, at either the University of Siena or the University of Perugia, in a specialized course designed for teachers of the Italian language for foreigners, "Corso di Aggiornamento per Insegnanti All'Estero" (Refresher Course for Foreign Teachers), during the summer of 2006.

Curmaci-Singer is a 1975 graduate of West Chester State College and holds a bachelor degree in Spanish. She graduated from West Scranton High School. In addition to her years of teaching throughout Florida, she has lived and worked in the Philadelphia area for almost 20 years. Curmaci-Singer worked for Wyeth International in Radnor, Penn. as a proofreader, translator and copywriter and at Vishay in Malvern as an international marketing communications manager.

During the gala awards convention weekend, NIAF will also feature conferences, exhibits, the traditional celebrity luncheon and auction, and a seminar on tourism. Visit www.niaf.org for updates during gala weekend.

The National Italian American Foundation (NIAF) is a non-profit organization based in Washington, DC dedicated to preserving the heritage of Italian Americans. Learn more about our programs and events by visiting www.niaf.org .