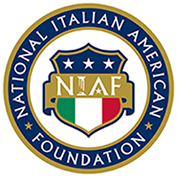 About

Support

Membership

Programs

Culture

NIAF Partners with Christopher Columbus Foundation To Encourage Middle School Teams To Solve Community Problems

FOR IMMEDIATE RELEASE 

Contact:   Elissa Ruffino (NIAF) 202/939-3106 or elissa@niaf.org

---

Columbus Foundation, Linda Topoleski 412/281-2345, ltopoleski@dymun.com

WASHINGTON, DC —November 29, 2005— The National Italian American Foundation (NIAF) joins the Christopher Columbus Fellowship Foundation as it kicks off its tenth anniversary of the Christopher Columbus Awards. The Christopher Columbus Awards program challenges sixth, seventh and eighth grade students to explore opportunities for positive change in their communities. A new component, The Chairman's Award, has been added to encourage students to apply their creativity and problem-solving skills to the many issues surrounding natural disasters.

Teams of up to four students and a coach identify a community issue and use the scientific process to solve it. Finalist teams win an all-expense-paid trip to Walt Disney World® to compete for U.S. Savings Bonds and the $25,000 Columbus Foundation Community Grant to help bring their idea to life in their community.

"The NIAF is pleased to partner with the Christopher Columbus Foundation on this exemplary program that has attracted more than 13,000 students throughout the U.S.," John B. Salamone, NIAF national executive director, said. Mr. Salamone was recently appointed by President Bush to serve on the Board of Trustees of the Christopher Columbus Foundation.

Past winners have included a group of Native American girls who built a study hall out of straw on the Crow Indian Reservation in Montana, and a group of students from Pennsylvania who developed a handheld grocery scanner that quickly deciphers food labels to detect whether the item contains allergens such as dyes or nuts.

For more information and competition guidelines, call 1-800-291-6020 or visitwww.christophercolumbusawards.com. Coaches may be teachers, parents, community leaders or mentors. Teams do not need to be affiliated with a school to enter. The deadline for receipt of entries is Monday, February 13, 2006.

The Christopher Columbus Awards program is sponsored by the Christopher Columbus Fellowship Foundation (www.columbusfdn.org), with support from the National Science Foundation, and it is endorsed by the National Middle School Association. The Foundation is an independent Federal government agency created by Congress in 1992 to encourage and support research, study and labor designed to produce new discoveries in all fields of endeavor for the benefit of mankind. The Foundation has established Frontiers of Discovery–Work in Progress and Discover the Future programs that recognize "cutting edge" innovations, innovative ideas of America's youth, and honor teachers. These programs include the Frank Annunzio Awards, Homeland Security Awards, Christopher Columbus Awards, National Gallery for America's Young Inventors and the $10,000 Freida J. Riley Teacher Award.

The National Italian American Foundation (NIAF) is a non-profit, non-partisan foundation dedicated to promoting the contributions of Italian Americans. The Foundation has a wide-range of programs that provide scholarships and grants, conferences and cultural seminars. Visit our website at www.niaf.org.