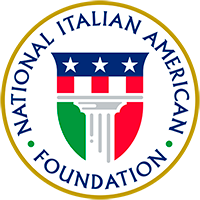 About

Join

Events

Programs

Culture

Support

Ferrero is a premier sponsor of NIAF. Learn More

NIAF Official Delegation Meets in Milan and Lake Maggiore, Italy

*Mission to Italy to Build Cultural Bridges and Stronger Economic Ties*

(Washington, D.C. – June 8, 2015) The National Italian American Foundation's Chairman Joseph V. Del Raso, President John M. Viola, the Foundation's executive committee and the members of the Italian American Leadership Council (IALC), will travel to Italy June 21- 28, 2015.  The NIAF Board of Directors and IALC Mission to Italy will bring together board members, business leaders and local government officials to discuss key issues influencing cultural, economic and diplomatic relations between our two nations in Lombardia, NIAF's 2015 Region of Honor. NIAF also will hold its international board of directors meeting on Lake Maggiore in the town of Oleggio Castello on June 25.

"NIAF's leadership hopes to strengthen NIAF's role as the bridge between the United States and Italy during the Foundation's official mission to the region of Lombardia by visiting EXPO Milano and solidifying lasting relationships with business, cultural and political leaders in Italy," Del Raso said. "Most recently, NIAF has created strong ties with Italy through a $100,000 NIAF grant to support 'Save the Saint' restoration in Milan; a full-tuition scholarship at Accademia Teatro alla Scala in Milan, and an academic partnership with the Fulbright Commission and Fondazione Falcone through 2019."

The eight-day itinerary begins on Sunday, June 21, in Milan for four days. After Milan, the delegation travels to Lake Maggiore for the duration of the mission which concludes on June 28.

Prior to the NIAF board meeting, the delegation and local Italian dignitaries will meet the participants of the 2015 Ambassador Peter F. Secchia Voyage of Discovery Program, now in its 16th year. Twenty university students of Italian heritage are participating in this year's program dedicated to strengthening their understanding of their rich cultural heritage, and introducing them to their ancestral homeland and the many contributions Italy is making to the world. For the third consecutive year, participants are giving back to the Italian community with a service project at Casino Cascina Rossago, at the Fondazione Genitori per l'Autismo ONLUS, a residential farming community for autistic adults.

While in Lombardia, NIAF's delegation will join John A. Leone, president and CEO of Bonney Forge Corporation, for a tour, followed by a luncheon he is hosting in the town of Albano S. Alessandro in Bergamo on June 24, at one of the company's two facilities in Italy. The company manufactures forged steel fittings and specialty products. "During our 39th Anniversary Awards Gala Weekend, John was one of the distinguished speakers at the Foundation's global economic forum to discuss the challenges and opportunities for U.S. investors in Italy. He is an example of a business entrepreneur that has successfully built greater economic relations between our two nations" Del Raso said.

At EXPO Milano, NIAF's delegation will meet entrepreneurs at several dinners and events hosted by the Lombardia and Italian Pavilions. Later that evening, Ambassador Philip T. Reeker, United States consul general in Milan, will host a private dinner for the board members.

A tour of the marble laboratories at the restoration site of Milan's gothic cathedral, the Duomo, followed by an official commemoration ceremony on the verandas of the Duomo are part of the itinerary. The Milan cathedral is considered one of the most beautiful cathedrals in the world.  Before leaving Milan, the group will enjoy an evening performance of Giacomo Pucci's opera, "Tosca," at Teatro La Scala, the world-renowned opera house.

During the Mission, the NIAF delegation will visit places along Lake Maggiore, including St. Giulio Island and Orta Lake,  followed by dinner at Villa Crespi restaurant.

The final day of the NIAF Mission to Italy concludes with a visit to Stresa and boat excursions to Isola Bella and Isola dei Pescatori. To schedule an interview, contact NIAF's Director of Communications Elissa Ruffino at elissa@niaf.org. For information about the mission and events, contact  NIAF International Relations Liaison Carlo Piccolo at 349-774-1791 or carlo@niaf.org.

The National Italian American Foundation (NIAF) is a non-profit organization dedicated to preserving and promoting the heritage of Italian Americans. Visit www.niaf.org.