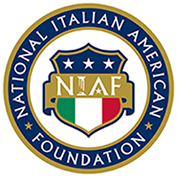 About

Support

Membership

Programs

Culture

NIAF NY Grant Recipients Bring Movies and Music To Long Island

FOR IMMEDIATE RELEASE 

Contact:   Elissa Ruffino (NIAF) 202/939-3106 or elissa@niaf.org

---

Rosanne De Luca Braun (Beyond Wiseguys) 631/754-2491 or roxypro@optonline.net


---

(WASHINGTON, DC—February 8, 2005) Two of the National Italian American Foundation's (NIAF) grant recipients, film producer Roseanne De Luca Braun of Northport, New York, and lyric sopranoDiana Di Marzio of New York City, will showcase their talents and latest work at a reception to benefit the new working documentary production, Beyond Wiseguys: Italian Americans and the Movies.

The gourmet Italian reception and musical program is Sunday afternoon, March 6 from 3 PM to 6 PM at the Harbor Club in Huntington, Long Island and is co-hosted by NIAF. The entertainment will also feature singers from the Metropolitan Opera.

NIAF grant recipient Rosanne De Luca Braun created and developed Beyond Wiseguys: Italian Americans and the Movies, which her company Beachcomber Films is co-producing with actor, writer, director John Turturro and Pacific Street Films.

Beyond Wiseguys showcases the stories and skills that Italian American writers, actors, directors, composers, cinematographers, art directors and other film artists have brought to American cinema. Personal anecdotes from John Turturro, Susan Sarandon, Chazz Palminteri, Paul Sorvino, Frank Capra Jr., Marisa Tomei, producer John Penotti, Ben Gazzara, Isabella Rossellini, Long Islanders Ralph Macchio and John Caglione Jr. and others are included in the documentary.

Diana Di Marzio, who received a NIAF grant in 2002, has appeared on theatrical and concert-hall stages around the world. At the event she will perform songs from Moonstruck, The Good, The Bad and the Ugly, and Cinema Paradiso and other popular films scored by Italian composers.

Tickets are $140 per person, $85 tax deductible and include a 3-month membership to Huntington's Cinema Arts Centre, which helped originate the project. To purchase, call Liz at 1/914-478-1900 or go online at www.psfp.com, click on the Wiseguys link. Seating is limited.

The NIAF Grant program offers financial awards to individuals, organizations and institutions with projects that enhance and advance the Foundation's mission to promote, preserve and protect Italian American heritage and culture. For more information and to obtain a grant application, visitwww.niaf.org Application deadline: May 30, 2005.

The NIAF is a non-profit, non-partisan foundation dedicated to preserving the heritage of Italian Americans. Learn more about our programs and events at www.niaf.org

BEYOND WISEGUYS: ITALIAN AMERICANS AND THE MOVIES, co-produced by Beachcomber Films and Pacific Street Films, is a production of the Center For Independent Productions, a 501 (c ) 3 organization. Learn more at www.psfp.com. Click on the Wiseguys links.