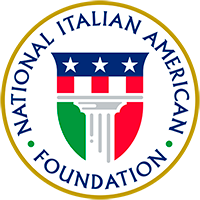 About

Join

Events

Programs

Culture

Support

Ferrero is a premier sponsor of NIAF. Learn More

NIAF New York Gala

FOR IMMEDIATE RELEASE

Contact: Elissa Ruffino, 202-939-3106, elissa@niaf.org

__________________________________________________________

EVENT:                    

NIAF New York Gala

SPONSOR:              

The National Italian American Foundation (NIAF)

WHEN:                     

Thursday, April 28, 2016

6:30 p.m. Cocktail Reception,  7:30 p.m. Dinner

WHERE:                   

Cipriani 42nd Street, 110 East 42nd St.,  New York, N.Y.

Leading the list of honorees at NIAF's annual New York Gala are sports greats Mike Piazza, 12-time MLB All-Star elected into the National Baseball Hall of Fame; and Luigi P. "Lou" Carnesecca, legendary coach of St. John's University's Red Storm men's basketball team and inductee of the Naismith Basket Ball Hall of Fame.

Honorees joining them include: Frank Bisignano, chairman and chief executive officer of First Data Corporation; Joseph R. Guccione, managing director of Freeh Group International Solutions LLC; Michael J. Inserra, Americas vice chairman at EY; and Arthur J. Mirante ll, principal and tri-state president at Avison Young.

The evening will include a posthumous honor for Honorable Marie L. Garibaldi, NIAF executive vice president and former New Jersey Supreme Court Justice, whose passing in mid-January affected the Italian American community in New York and New Jersey.

Held at the legendary Italian Renaissance-inspired Cipriani 42nd Street on April 28,  the evening begins at 6:30 p.m. with a cocktail reception, followed by dinner at 7:30 p.m.

 The Sicilian Tenors, including Aaron Caruso, Elio Scaccio and Sam Vitale, will serenade the guests with a selection of songs. Opera singer Cristina Fontanelli, will sing the U.S. national anthem and "Inno di Mameli," Italy's national anthem.

NIAF's New York Gala is chaired by Gerard S. LaRocca, a member of NIAF's Board of Directors and chief administrative officer, Americas, Barclays Capital.

Proceeds from NIAF's New York Gala will benefit the Foundation's philanthropic and educational programs. Tickets: $500 (Gold Ticket); $1,000 (Platinum Ticket). Attire: Cocktail. For more information or sponsorship opportunities, visit: www.niaf.org/nyc or contact Jerry Jones at 202-939-3102 or jerry@niaf.org.

 The National Italian American Foundation (NIAF) is a non-profit dedicated to preserving the proud heritage of an estimated 25 million Americans of Italian descent, the nation's fifth largest ethnic group. NIAF's mission is to serve as a resource for the Italian American Community; to preserve the Italian American heritage and culture; to promote and inspire a positive image and legacy of Italian Americans; and to strengthen and empower ties between the United States and Italy. Visit www.niaf.org.