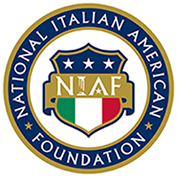 About

Support

Membership

Programs

Culture

NIAF Media Networking in San Francisco

FOR IMMEDIATE RELEASE 

Contact:   Elissa Ruffino (NIAF) 202/939-3106 or elissa@niaf.org

---

The National Italian American Foundation (NIAF), in conjunction with the Silicon Valley Italian Executive Council (SVIEC), hosted its annual media networking dinner at the headquarters of Silicon Graphics Inc. (SGI) on February 16, 2005. American journalists of Italian ancestry and Italian journalists in the San Francisco Bay Area dined with prominent Italian American CEOs in Silicon Valley to learn about NIAF's mission, latest programs and view the newest advances in computer technology.

Carla Marinucci, senior political writer, The San Francisco Chronicle, and Paolo Pontinere, correspondent, L'Espresso, co-chaired the dinner meeting. Attendees included journalists from the print and electronic media including: Alameda Times-Star, Fox affiliate KTVU, Channel 2, Lincoln Broadcasting Company, 1000 Hearts Creative Artists' Network and ANG Newspapers.

Jeff Capaccio, Esq., NIAF regional vice president in the Far West region and a partner at the Palo Alto, Calif., law firm of Carr & Ferrell LLP, welcomed SVIEC members and journalists. "This event is an opportunity to network, socialize and stay current on matters of concern to Italians and Italian Americans. The evening also establishes a link between our high technology community and the media," Capaccio, said. Capaccio congratulated Francine Brevetti, regional business reporter at ANG Newspapers, on her recently published book "The Fabulous Fior – Over 100 Years in an Italian Kitchen: The History of San Francisco's Fior d'Italia," America's oldest Italian Restaurant established in 1886. Brevetti's grandparents worked at the restaurant over 100 years ago. She chronicles the history and passion of the immigrants who established Fior d'Italia.

Bill La Rosa, senior vice president of SGI, invited the guests to SGI's Reality Center: Living Future Technology to experience a real-time visual simulation model with high-contrast color images of more than 37,000 stars, 30,000 galaxies, constellations and planets. Among other things, SGI's images are used to get "inside" space and science to help scientists chart the universe, view our sun and train astronauts before reporting to the International Space Station.

Capaccio closed the event by thanking SGI, a leader in high performance computing visualization, for underwriting the event, Chef Donato Scotti of La Strada Ristorante Italiano for catering the Italian specialties, and Lorenzo Scarpone of Villa Italia for providing the Italian wines.