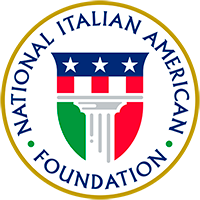 About

Join

Events

Programs

Partnerships

Culture

NIAF Commemorates 9/11 Anniversary

FOR IMMEDIATE RELEASE

Contact: Elissa Ruffino (NIAF) 202/939-3106202/939-3106 or elissa@niaf.org

** Scholarships Awarded to Students **

** Families Attend White House Reception **

(WASHINGTON, DC – SEPTEMBER 3, 2002) As we approach the first anniversary of the tragic events of September 11, the National Italian American Foundation (NIAF) reflects upon its efforts to help the victims' families.

To date, 25 children of emergency personnel who perished September 11 have received funds toward their post-secondary education. Daniele Ganci, daughter of FDNY Chief Peter J. Ganci, Jr., received one of the first scholarships to complete her studies at Long Island University.

Immediately following the terrorist attack, the NIAF established an educational fund for the children of the firefighters, police, emergency medical personnel and other rescue workers who perished in New York City. The fund was named in memory of deceased FDNY Chief Ganci, a 32- year veteran with the New York City Fire Department who died in the collapse of New York City's Twin Towers. FDNY Chief Daniel Nigro assisted the NIAF in gathering the names of hundreds of children of deceased rescue workers.

"Over the last year, we have worked closely with the NIAF leadership in their efforts to fund the education of the many children of these fallen heros," said FDNY Chief Daniel Nigro. "The Foundation has strived to team-up with supporters in the financial community and other organizations to launch this on-going, multi-million dollar project, " added Nigro.

On Columbus Day 2001, the NIAF arranged for the New York City Fire and Police Department Chiefs, Arlington County Fire Department Chiefs, and Kathleen Ganci, widow of slain Fire Chief Ganci and her family, to attend a White House reception with President George W. Bush.

Throughout 2001 and 2002, surviving family members were guests of the Foundation at the Andrea Bocelli concerts and NIAF private receptions in New York City and New Jersey. Families joined the NIAF at their regional award dinners, as well as attended the Foundation's 26th Anniversary Awards Dinner in October 2001.

Representatives from the fire and police departments are also expected again this year when the NIAF holds its annual Washington gala on October 26 with a host of celebrities including Tony Bennett, Robert De Niro, Sophia Loren and Thomas (Tommy) Mottola.