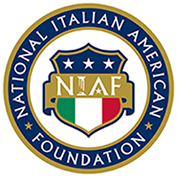 About

Support

Membership

Programs

Culture

NIAF Celebrates Italian American Filmmakers at Long Island Movie Event ** New Documentary Beyond Wiseguys Executive Produced by John Turturro**

FOR IMMEDIATE RELEASE 

Contact:   Elissa Ruffino (NIAF) 202/939-3106 or elissa@niaf.org

---

Rosanne De Luca Braun (Beyond Wiseguys) 631/754-2491 or roxypro@optonline.net


---

(WASHINGTON, DC—February 10, 2005) The National Italian American Foundation (NIAF) is co-sponsoring a reception and musical program to benefit the new working documentary production, Beyond Wiseguys: Italian Americans and the Movies, at the Harbor Club in Huntington, Long Island on Sunday afternoon, March 6 from 3 PM to 6 PM. The film's executive producer is John Turturro and it is co-produced by Beachcomber Films and Pacific Street Films.

Following the gourmet Italian reception, singers from the Metropolitan Opera will perform selections from Italian operas. NIAF grant recipient Diana Di Marzio will also perform songs from Moonstruck, The Good, The Bad and the Ugly, and Cinema Paradiso.

According to Steve Aiello, NIAF board member who will be speaking at the event, "NIAF's mission is to communicate the authentic history of Italian Americans to as wide an audience as possible. Beyond Wiseguys will shine a light on the real experiences and contributions of Italian American film artists to every aspect of the American movie business."

Clips from Beyond Wiseguys will be showcased during the event. The film includes interviews with working filmmakers such as John Turturro, Susan Sarandon, Chazz Palminteri, Paul Sorvino, Frank Capra Jr., Marisa Tomei, producer John Penotti, Ben Gazzara, Isabella Rossellini, Long Islanders Ralph Macchio and John Caglione Jr. and others. The film showcases the stories and skills that Italian American film artists have brought to American cinema.

Tickets are $140 per person, $85 tax deductible and include a 3-month membership to Huntington's Cinema Arts Centre, which helped originate the project. To purchase, call Liz at 1/914-478-1900 or go online at www.psfp.com, click on the Wiseguys link. Seating is limited.

The NIAF is a non-profit, non-partisan foundation dedicated to promoting the contributions of Italian Americans. Visit our website at www.niaf.org.

BEYOND WISEGUYS: ITALIAN AMERICANS AND THE MOVIES, co-produced by Beachcomber Films and Pacific Street Films, is a production of the Center For Independent Productions, a 501 (c ) 3 organization. Learn more at www.psfp.com. Click on the Wiseguys links.