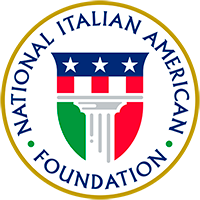 About

Join

Events

Programs

Partnerships

Culture

The National Italian American Foundation Announces New Corporate Sponsor Roots 'n Tours

FOR IMMEDIATE RELEASE

CONTACT:
Danielle DeSimone
National Italian American Foundation
202-939-3122
ddesimone@niaf.org

---

(Washington, D.C. – January 25, 2018) The National Italian American Foundation (NIAF) is pleased to announce its newest Corporate Sponsor, Roots 'n Tours. Roots 'n Tours offers customized travel experiences for Italian Americans who wish to visit Italy and conduct genealogical research into their family's history.

"We are proud of this Corporate Sponsorship, which allows us to provide the Italian American community with a rich network of partners, administrations, craftsmen, manufacturers and associations that we have already developed in Italy," said Rosario Turrisi, co-founder of Roots 'n Tours. "The Italian community has made major contributions to the history and progress of the United States, and being able to welcome Italian Americans here in Italy, and accompanying them on the rediscovery of their roots, is something that makes us very happy and is a wonderful opportunity for everyone."

"Now, more than ever, do we have a sense to know where we come from and are proud to bring our members that opportunity through Roots 'n Tours," said Gabriella Mileti, NIAF Program Manager of Government Affairs and Community Outreach.

Roots 'n Tours' mission is to provide support for Italian Americans looking to discover their family roots in Italy through a unique and personal journey. Using genealogic information and research, the company organizes a customized journey for Italian Americans and their families, providing exclusive access to the best of Italy and your family's region of origin. The trips include meeting with local artisans and merchants, local leadership, and long-lost Italian relatives, led along the way by experienced, local guides.

For more information on Roots 'n Tours, please go to www.rootsntours.com. NIAF Members can access an exclusive deal with Roots 'n Tours through their membership portal at https://www.niaf.org/my-niaf/.

---

The National Italian American Foundation (NIAF) is a non-profit, non-partisan organization dedicated to preserving, promoting and protecting the Italian American heritage and culture. To learn more about the Foundation and become a member, please visit www.niaf.org.