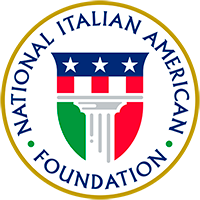 About

Join

Events

Programs

Culture

Support

Ferrero is a premier sponsor of NIAF. Learn More

Media Advisory–East Coast Gala

FOR IMMEDIATE RELEASE

Contact: Elissa Ruffino (NIAF) 202/939-3106 or elissa@niaf.org

---

MEDIA ADVISORY

EVENT: EAST COAST GALA

SPONSOR: The National Italian American Foundation (NIAF)

WHEN: Monday evening, April 16, 2007
6 p.m. Reception
7 p.m. Gala and Awards Program

WHERE: New York Marriott Marquis Times Square
1535 Broadway
New York, NY 10036
212-398-1900

Business executives John G. Giumarra Jr., vice president of Giumarra Vineyards; Mark Juliano, COO of Trump Entertainment Resorts; Paul Montrone, chairman of Latona Associates; and Peter Striano, chairman and CEO of Unity International Group, will be honored at the National Italian American Foundation's (NIAF) East Coast Gala on Monday evening, April 16, in New York City.

Donald Trump will present a NIAF Special Achievement Award in Business to Juliano. Giumarra and Striano will receive NIAF Special Achievement Awards in Business. Montrone will receive a NIAF Special Achievement Award for Humanitarian Service.

Legendary actress Gina Lollobrigida will present a scholarship in her name to Anthony M. Aiello, a junior at New York University majoring in theater and minoring in broadcast journalism.

Yankee Hall of Famer Yogi Berra and actor Danny Aiello will be joined by prominent Italian American business and community leaders at the NIAF gala.

Fox News Channel anchor and correspondent Jamie Colby will serve as the evening's master of ceremonies.

The gala begins with a cocktail reception at 6 p.m., followed by an awards program honoring Italian-American leaders and showcasing New York's vibrant Italian-American community. Tickets begin at $400 per person. Attire: Business.

To purchase tickets, contact Carolyn Laurenzano at 202/939-3114 or carolyn@niaf.org.