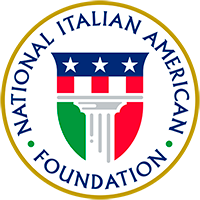 About

Join

Events

Programs

Culture

Support

Ferrero is a premier sponsor of NIAF. Learn More

John Podesta To Speak at Columbia University **NIAF Launches Public Policy Lecture Series in NYC**

FOR IMMEDIATE RELEASE 

Contact:   Elissa Ruffino (NIAF) 202/939-3106 or elissa@niaf.org

---

(Washington, D.C.—March 30, 2005) John Podesta, president and chief executive officer of the Center for American Progress and former White House Chief of Staff, will be the keynote speaker at the launching of the National Italian American Foundation's (NIAF) Public Policy Lecture Series on Thursday, March 31 at Columbia University.

The NIAF Public Policy Lecture Series will be held from noon to 2 PM at Columbia University's Italian Academy, 1161 Amsterdam Avenue in New York City.

"This series is one of the Foundation's signature programs for 2005. It assembles a veritable who's who of the Italian American community giving lectures at elite institutions around the country," Dr. A. Kenneth Ciongoli, NIAF chairman and CEO, stated.

The NIAF program was made possible through an endowment from Vincent Viola, the former chairman of the New York Mercantile Exchange and NIAF vice chairman, to showcase Italian Americans at the highest levels discussing their respective areas of expertise in public policy. It provides a non-partisan forum where NIAF can contribute to public discourse on contemporary issues facing our nation. The national series also allows for greater visibility of prominent Italian Americans to young adults and to the academic community. It will feature several lectures per year at hosting universities. The next installment of this series will feature Jack Valenti, former chairman of the Motion Pictures Association of America (MPAA), at Georgetown University on April 20, 2005.

NIAF also offers the Frank J. Guarini Public Policy Forum on Capitol Hill in Washington, D.C. another public policy program which is held in conjunction with the Italian American Congressional Delegation.

For more information on the NIAF series, contact: John Marino, 202-939-3115 or jmarino@niaf.org.

NIAF, an independent, non-partisan, non-sectarian, not-for profit foundation, offers this program in order to contribute to the public discourse on current topics of the day. NIAF does not necessarily endorse or oppose the positions and/or remarks of any of the program's participants.