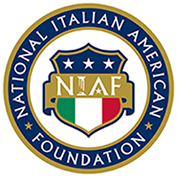 About

Support

Membership

Programs

Culture

Internet Travel Executive Michelle Peluso To be Honored at Largest Italian American Gala

FOR IMMEDIATE RELEASE 

Contact:   Elissa Ruffino (NIAF) 202/939-3106 or elissa@niaf.org

---

<(WASHINGTON, DC – September 30, 2005) Michelle Peluso, president and CEO of Travelocity, will receive the National Italian American Foundation (NIAF) Special Achievement Award in Business at the Foundation's 30th Anniversary Awards Gala, Saturday evening, October 15 at the Hilton Washington & Towers, Washington, D.C. The gala begins with a 6 p.m. reception followed by dinner at 7 p.m.

The NIAF Gala is one of the premier annual events in Washington, D.C. attracting more than 3,000 people from throughout the country and abroad. During the gala, Paul S. Otellini president and CEO of Intel, will also receive the NIAF Special Achievement Award in Business. GeneralPeter Pace, chairman of the Joint Chiefs of Staff, will receive the NIAF Special Achievement Award for Military Service. Ambassador Peter F. Secchia, chairman of the board at Universal Forest Products Inc. and managing partner of SIBSCO LLC, will receive the NIAF Special Achievement Award for International Affairs.

Actors Danny Aiello, Maria Bello, Dennis Farina, and Antonio Sabato, Jr. and singers Jay Black and Natalie Merchant, will join prominent Italian American leaders in business, sports, and the arts at the gala. Popular entertainer Tony Danza is the M.C. for the evening. The dinner chair is Joseph J. Plumeri, Willis Group Holdings chairman and CEO.

b>Ms. Peluso founded and ran the leading online last-minute travel web site in North America, Site59.com, which was acquired by Travelocity in March 2002. She was named president and CEO of Travelocity in December 2003. Prior to her appointment as Travelocity's COO in April 2003, Ms. Peluso served as senior vice president of product strategy and distribution. Before her Site59 venture, she managed cases at the Boston Consulting Group and served as White House Fellow and Senior Advisor to the Secretary of Labor. The Wall Street Journal ranked Ms. Peluso #4 on its "50 Women to Watch" list in 2004. That same year, Ms. Peluso was named to Fast Company Magazine's "Fast 50," an annual survey that recognizes 50 leaders, innovators and technology pioneers. She was also awarded the Ernst and Young Entrepreneur of the Year Award in 2002. Named the 2001 Technology Person of the Year by Travel Agent Magazine, she has also been selected by that publication as a "Rising Star" and one of the "Most Powerful Women in Travel." Ms. Peluso received her master's degree in economics, philosophy and politics from Pembroke College at Oxford University where she was a Thoroun Scholar. She holds a bachelor's degree from the University of Pennsylvania's Wharton School of Business.

Dinner tickets begin at $400 per person. Attire: Black tie. Proceeds will benefit the NIAF Scholarship and Education Programs. For tickets or sponsor information, contact: Bonni Cellini at 202/939-3114 or bonni@niaf.org or register on-line at www.niaf.org.

The NIAF is a non-profit, non-partisan foundation dedicated to promoting the contributions of Italian Americans. The Foundation has a wide-range of programs that provide scholarships and grants, conferences and cultural seminars. Visit our website at www.niaf.org.