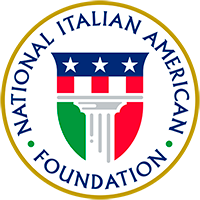 About

Join

Events

Programs

Culture

Support

Ferrero is a premier sponsor of NIAF. Learn More

Giuliani and Pelosi Bring 3,000 To Their Feet at NIAF Gala ** Honorees Scorsese and Pompeo Stir Crowd To Embrace Heritage**

FOR IMMEDIATE RELEASE

Contact: Elissa Ruffino (NIAF) 202/939-3106 orelissa@niaf.org

---

(WASHINGTON, D.C. — October 16, 2007) Rudolph W. Giuliani , presidential candidate and former New York City Mayor, and Nancy Pelosi , Speaker of the U.S. House of Representatives, received standing ovations from the 3,000 guests attending the National Italian American Foundation's (NIAF) 32nd Anniversary Awards Gala on Saturday October 13, 2007 at the Hilton Washington & Towers.

Giuliani and Pelosi each received NIAF Special Achievement Awards in Public Service at the black-tie gala. Louis Freeh , former director of the FBI, and Governor of Arizona Janet Napolitano presented the awards respectively.

Academy Award-winning director Martin Scorsese , who gave an emotional tribute to Jack Valenti , a NIAF founding member and former head of the Motion Picture Association of America (MPAA), received the Jack Valenti Award from Mary Margaret Valenti , wife of the late movie industry icon. With the award, Scorsese launched the Jack Valenti Institute, which will fund Hollywood internships for young Italian Americans interested in pursuing careers in film.

Ellen Pompeo , star of the ABC drama "Grey's Anatomy," came to the podium to receive a NIAF Special Achievement Award in Entertainment. Holding the award high above her head, she exclaimed, "This is for everyone who has sacrificed and left their country to follow one's dream," in reference to the sacrifices made by her grandparents, who immigrated to the U.S. from Gesualdo, Italy. The award was presented to her by Vincent Viola , a NIAF vice chairman.

Other NIAF 2007 gala awards recipients also included: CEO of AARP William D. Novelli , whose NIAF Special Achievement Award in Public Advocacy was presented by NIAF Board Member Patricia de Stacy Harrison , president and CEO of the Corporation for Public Broadcasting, and Connie Stevens , actress, singer, and entrepreneur, who received a NIAF Special Achievement Award for Humanitarian Services by Joseph R. Cerrell , a NIAF vice chairman.

During the evening, NIAF Vice Chairman Jerry Colangelo introduced a NIAF video tribute to Luciano Pavarotti , with remarks by legendary actress Gina Lollobrigida . Former NIAF Board Members Ambassador Peter Secchia and Lee Rizzuto each pledged $1 million toward a $3 million goal to endow the NIAF Voyage of Discovery Program, which would enable young Italian Americans to see Italy for the first time.

At the gala, NIAF Chairman Dr. A. Kenneth Ciongoli introduced one of Italy's highest ranking officials, Franco Danieli , Italy's Deputy Foreign Minister. Other notables in attendance included Italy's Ambassador to the United States H.E. Giovanni Castellaneta , U.S. Ambassador to Italy Ronald P. Spogli , Supreme Court Justices Samuel Alito, Jr . and Antonin Scalia , Washington, D.C. Mayor Adrian Fenty , Gen. Peter Pace , recently retired chairman of the Joint Chiefs of Staff, President of Georgetown University John J. DeGioia , and Franco Nuschese , president of Georgetown Entertainment Group.

The evening included performances by Vittorio Grigolo , an opera tenor who trained under Pavarotti, and Italian-Australian singing sensation Alfio . Celebrities at the gala and weekend activities included actress Susan Lucci , singers Deana Martin , Neil Sedaka , Jerry Vale and Dion , baseball legend Yogi Berra , actor Tony Lo Bianco and former NFL player Vince Ferragamo . CNBC Anchor Maria Bartiromo was this year's the master of ceremonies.

This year NIAF awarded more than $1.15 million in scholarships and cultural grants to students across the U.S. and Italy. Recognizing the younger generation, NIAF organized its 11th annual youth gala, which attracted more than 300 young Americans of Italian descent from 20 states. While the youth gala participants were finishing their dinner, Scorsese and Pompeo made an appearance to greet the young crowd. Afterwards, the young adults, along with many gala attendees, enjoyed a post-gala dessert reception.

Earlier on Friday at a noon luncheon, Mrs. Laura Bush gave the keynote address and received the Foundation's Special Achievement Award in Literacy in recognition of her efforts to help America's youth. The First Lady spoke about the many ways that Italian Americans have enriched communities across the nation and the love of learning shared by Italians and Americans. Ciongoli presented the award to Mrs. Bush.

The weekend also featured Friday evening's "Salute to the Martini" with a performance by rock and roll legend Neil Sedaka , a panel covering the topic of "The 2008 Presidential Election: Is there an Italian-American Vote?," with panelists Michael Barone , senior writer for the U.S. News and World Report and resident scholar at the American Enterprise Institute; Robert Novak , nationally syndicated columnist and Fox News commentator; and Bill Schneider , CNN senior political analyst. Other events included NIAF's celebrity auction and luncheon in addition to the Foundation's Council 2000/Youth Networking Breakfast with guest speakers former Super Bowl NFL coach Dick Vermeil and former NFL player Vince Papale . The breakfast included a presentation of the fifth annual NIAF Teacher of the Year Award to Peter LoJacono , a teacher of Italian language and culture at Hutchinson Central Technical High School in Buffalo, N.Y.

NIAF guests also enjoyed Piazza d'Italia , a two-day best of Italy exhibition, featuring Maserati , Ferrari and Lamborghini , luxury sport vehicles, wine tastings, a cooking demonstration, and a Book Pavilion with works by Italian-American authors.

Italy's Region of Liguria was this year's sponsoring region from Italy. Proceeds from the weekend events will benefit NIAF's scholarship and education programs. NIAF President Salvatore J. Zizza thanked the guests for attending this year's event and to mark October 17-18, 2008 for NIAF's 33rd Anniversary Convention Weekend. The gala closed with a chorus of "God Bless America."

NIAF is a non-profit organization based in Washington, D.C., and dedicated to preserving the heritage of Italian Americans. Visit www.niaf.org.