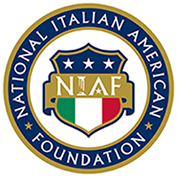 About

Support

Membership

Programs

Culture

Emmy Award-Winning Actress Susan Lucci and Famed Actor Dennis Farina To Present NIAF Scholarships at East Coast Gala in NYC

FOR IMMEDIATE RELEASE 

Contact:   Elissa Ruffino (NIAF) 202/939-3106 or elissa@niaf.org

---

(WASHINGTON, DC— April 11, 2005) Emmy Award-winning actress Susan Lucci and famed actorDennis Farina will present National Italian American Foundation (NIAF) scholarships during the Foundation's East Coast Gala, Wednesday evening, April 13 at the Waldorf-Astoria in New York City. The gala begins with a reception and silent auction at 6:00 PM followed by dinner at 7:00 PM.

Ms. Lucci and Mr. Farina will be joined by honorees Stanley Tucci, award-winning actor; Dr. Michael Brescia, executive medical director, Calvary Hospital; and Joseph Moglia, CEO, Ameritrade Holding Corporation. Mr. Tucci will receive a NIAF Special Achievement Award in Entertainment, Dr. Brescia will receive a NIAF Special Achievement Award for Humanitarian Service, and Mr. Moglia will receive a NIAF Special Achievement Award in Business.

NIAF scholarship recipient Teresa Caturano of Staten Island, N.Y., a senior at Stuyvesant High School, will receive the Susan Lucci Scholarship. Matthew Oxx of Briarcliff, N.Y., a sophomore at Pace University in Pleasantville, N.Y., will receive the Dennis Farina Scholarship.

A native of Garden City, N.Y., Ms. Lucci began her career in 1970, when she starred in ABC's "All My Children" as Erica Kane the "woman you love to hate." After 19 nominations for an Emmy Award for Best Actress, Ms. Lucci won a Daytime Emmy in 1999. Off screen, Ms. Lucci launched the Susan Lucci Collection consisting of hair and skin care products, perfumes, and lingerie. She also created a special fragrance called Susan Lucci Invitation.

Mr. Farina, born to Italian immigrants and raised in Chicago,Ill. began his career as a Chicago police officer. He started acting in 1981 when he was hired to be a local consultant on the film Thief, and by 1986 he was acting full time. In 1986 Mr. Farina played FBI agent Jack Crawford in Manhunter. He has also starred in 1988's Midnight Run, Get Shorty (1995), Out of Sight (1998), Saving Private Ryan (1998), and Snatch (2000). Since May 2004, Mr. Farina has been on the cast of "Law & Order" as Detective Joe Fontana.

The 2005 NIAF East Coast Gala is chaired by Frank Petrilli, NIAF board member and retired CEO of TD Waterhouse USA. CNBC's Maria Bartiromo and Ron Insana are some of the prominent Italian Americans attending the gala.

Dinner tickets start at $300 per person. Attire: Business. To purchase tickets, contact Bonni Cellini at 202/939-3114 or bonni@niaf.org. Register online at www.niaf.org.

The National Italian American Foundation (NIAF) is a non-profit, non-partisan foundation dedicated to promoting the contributions of Italian Americans. The Foundation has a wide-range of programs that provide scholarships and grants, conferences and cultural seminars. Visit our website at www.niaf.org.