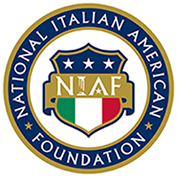 About

Support

Membership

Programs

Culture

Communications Students To Meet with Top Media Professionals in NYC ** National Italian American Foundation (NIAF) Sponsors Program **

FOR IMMEDIATE RELEASE 

Contact:   Elissa Ruffino (NIAF) 202/939-3106 or elissa@niaf.org

---

(WASHINGTON, DC – May 10, 2005) Twenty-five Italian American communications students will participate in the Graduates to Leaders (G2L) workshop in communications in New York City sponsored by the National Italian American Foundation (NIAF). The two-day lecture and discussion sessions will provide students with an "insider's" view into the communications /journalism field through hands-on experiences with today's most experienced and influential media personalities. The seminars will also serve as networking forums introducing participants to a professional support group of Italian Americans in communications.

From May 22 – 24, participants of the all-expenses-paid NIAF program will meet with prominent Italian American leaders in the communications field including: Steve Aiello, senior counselor Hill & Knowlton; Salvatore Arena, deputy metro editor, New York Daily News; Tony Ceglio, CEO and president of The Italian American Channel; Michael De Cheser, president of IVP Media; Charles Gasparino, senior writer, Newsweek Magazine; Ron Insana, anchor, CNBC; Bob Leverone, vice president, Television at CBS Marketwatch; John Mancini, editor, Newsday; Rosanna Scotto, anchor, Fox 5 News; and Stefano Vaccara, managing editor, America Oggi. The program will also include visits to RAI International and FOX 5 News and a tour of the CNBCstudios.

Seminar topics will include: ethics in reporting; freelancing opportunities; the changing face of cable; future trends in internet business; strategies to climb to the top; editing; magazine management; news anchoring; crisis management and the media; and financial reporting in different markets. For more information, contact: Brock Olivo at bolivo@niaf.org or 202/939-3116.

The National Italian American Foundation (NIAF) is a non-profit organization based in Washington, DC and dedicated to preserving the heritage of Italian Americans. The NIAF organizes cultural activities and helps young people with scholarships, internships and other programs. Visit our web site at www.niaf.org.