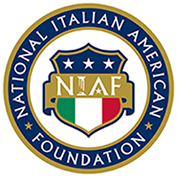 About

Support

Membership

Programs

Culture

Chairman of the Joint Chiefs of Staff To be Honored at Italian American Gala in Nation's Capital

FOR IMMEDIATE RELEASE 

Contact:   Elissa Ruffino (NIAF) 202/939-3106 or elissa@niaf.org

---

(WASHINGTON, DC – October 3, 2005) General Peter Pace, chairman of the Joint Chiefs of Staff, will receive the National Italian American Foundation (NIAF) Special Achievement Award for Military Service at the Foundation's 30th Anniversary Awards Gala, Saturday evening, October 15 at the Hilton Washington & Towers, Washington, D.C. The gala begins with a 6 p.m. reception followed by dinner at 7 p.m.

The NIAF Gala is one of the premier annual events in Washington, D.C., attracting more than 3,000 people from throughout the country and abroad. During the gala, Paul S. Otellini, president and CEO of Intel Corporation, and Michelle Peluso, president and CEO of Travelocity, will receive NIAF Special Achievement Awards in Business. Ambassador Peter F. Secchia chairman of the board at Universal Forest Products Inc., and managing partner of SIBSCO LLC, will receive the NIAF Special Achievement Award for International Affairs.

Actors Danny Aiello, Maria Bello, Dennis Farina, and Antonio Sabato, Jr. and singers Jay Blackand Natalie Merchant will join prominent Italian American leaders in business, sports, and the arts at the gala. Popular entertainer Tony Danza will be the M.C. The dinner chair is Joseph J. Plumeri, Willis Group Holdings chairman and CEO.

General Pace, whose father emigrated from Noci, Italy, succeeded Air Force General Richard B. Myers on October 1. General Pace is the first Marine selected for the nation's top uniformed military post. He also holds the distinction of being the first Marine to have served as the Vice Chairman, a post he held from October 2001 to August 2005. General Pace reached four-star rank in 2000.

Born in Brooklyn, N.Y. and raised in Teaneck, N.J., General Pace graduated from the U.S. Naval Academy in 1967 and earned a master's degree in business administration from George Washington University. He attended Harvard University for the Senior Executives in National and International Security program, and the National War College. After graduating from The Basic School in 1968, he was sent to Vietnam as a rifle platoon leader. He has also served as Commanding Officer of the Marine Barracks in Washington, D.C (1988-1991).; Deputy Commander, Marine Forces Somalia (Dec '92-Feb '93); Deputy Commander, Joint Task Force Somalia (Oct '93-Mar'94); Director of Operations for the Joint Staff (1996-1997); Commander, U.S., Marine Forces Atlantic/Europe/South (1997-2000); and Commander in Chief, U.S. Southern Command (2000-2001).

Dinner tickets begin at $400 per person. Attire: Black tie. Proceeds will benefit the NIAF Scholarship and Education Programs. For tickets or sponsor information, contact: Bonni Cellini at 202/939-3114 or bonni@niaf.org or register on-line at www.niaf.org.

The NIAF is a non-profit, non-partisan foundation dedicated to promoting the contributions of Italian Americans. The Foundation has a wide-range of programs that provide scholarships and grants, conferences and cultural seminars. Visit our website at www.niaf.org.