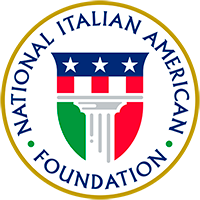 About

Join

Events

Programs

Culture

Support

Ferrero is a premier sponsor of NIAF. Learn More

Catherine B. Reynolds To be Honored at Italian-American Gala in Washington, D.C.

FOR IMMEDIATE RELEASE Contact:   Elissa Ruffino (NIAF) 202/939-3106 or elissa@niaf.org

---

(WASHINGTON, D.C. – October 10, 2006) Catherine B. Reynolds , chairman of the Catherine B.Reynolds Foundation, will receive the National Italian American Foundation (NIAF) Special Achievement Award in Education and Cultural Affairs at the Foundation's 31st Anniversary Awards Gala on Saturday, October 21 at the Hilton Washington & Towers, Washington, D.C. Chicago Mayor Richard M. Daley will present the award.

Actor Alan Alda, baseball greats Yogi Berra and Tommy Lasorda, director Mel Brooks, Supreme Court Justice Antonin Scalia, and singers Neil Sedaka and Jerry Vale will join more than 3,000 people from across the U.S. and Italy at the NIAF gala, one of the premier annual events in the nation's capital. The gala begins with a 6 p.m. reception followed by dinner at 7 p.m.

Reynolds created an affordable way for Americans to finance college educations: a privately-funded alternative to government student loan programs. Through the program, "Loan to Learn," thousands of Americans have been able to attend the college of their choice. This approach to credit-based education financing revolutionized student lending and generated a multibillion-dollar industry of 65 lenders offering more than 200 financial products.

Today, Reynolds devotes herself to philanthropic pursuits as the leader of one of the largest foundations in the nation, the Catherine B. Reynolds Foundation. In 2004, Business Week selected her as one of the 50 most philanthropic living Americans and the first self-made woman ever to make their list. A graduate of Vanderbilt University, she has been awarded honorary degrees this year from Morehouse College and Willamette University. Reynolds' paternal grandparents emigrated from Spinoso, Italy

Later that evening, singing legend Frankie Valli will receive the NIAF Lifetime Achievement Award in Entertainment at the gala. A performance by Valli and The Four Seasons is one of the highlights at NIAF's annual Salute to the Martini on Friday, October 20 at the hotel.

During the gala, Academy Award-winning actress Anne Bancroft will be posthumously inducted into the NIAF Italian American Hall of Fame. Her husband, director Mel Brooks , will accept the award on her behalf. Alda will present the award. Supreme Court Justice Antonin Scalia will present the Foundation's Special Achievement Award to his colleague, Supreme Court JusticeSamuel Alito, Jr. Raffaello Follieri , chairman and CEO of Follieri Yucaipa Investments, will receive the NIAF Special Achievement Award for Humanitarian Service. Tom W. LaSorda , president and CEO of Chrysler Group DaimlerChrysler Corporation, will receive the NIAF Special Achievement Award in Business. The dinner chairman is Lawrence Auriana , founder and portfolio co-manager of Federated Kaufmann Fund and a NIAF board member.

Dinner tickets begin at $400 per person. Attire: Black tie. Proceeds benefit NIAF educational programs and Gardens of Hope, a NIAF co-sponsored community garden project benefiting the homeless and those in inner-city shelters. For tickets or sponsor information, contact: Carolyn Laurenzano at 202/939-3114 or carolyn@niaf.org or register online at www.niaf.org.

The National Italian American Foundation (NIAF) is a non-profit, non-partisan foundation dedicated to promoting the contributions of Italian Americans. Visit www.niaf.org.