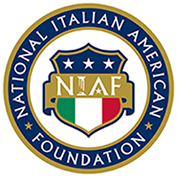 About

Support

Membership

Programs

Culture

Actor Stanley Tucci Heads List of Honorees at NIAF East Coast Gala in NYC **Emmy Award-Winning Actress Susan Lucci To Join Honorees**

FOR IMMEDIATE RELEASE 

Contact:   Elissa Ruffino (NIAF) 202/939-3106 or elissa@niaf.org

---

(WASHINGTON, DC— March 18, 2005) Stanley Tucci, award-winning actor; Dr. Michael Brescia, executive medical director, Calvary Hospital; and Joseph Moglia, CEO, Ameritrade Holding Corporation, will be honored at the National Italian American Foundation (NIAF) 2005 East Coast Gala, Wednesday evening, April 13, at The Waldorf-Astoria in New York City. The gala begins with a reception and silent auction at 6:00 PM followed by dinner at 7:00 PM.

Emmy Award-winning actress Susan Lucci will present a NIAF scholarship to a young Italian American during the gala.

Nominated for Broadway's 2003 Tony Award as Best Actor for a revival of Terence McNally's "Frankie and Johnny in the Clair de Lune," Mr. Stanley Tucci will receive a NIAF Special Achievement Award in Entertainment. An Italian American actor who shies away from mobster roles, he has appeared in numerous movies such as Robots, Shall We Dance, The Terminal, Road to Perdition, A Midsummer Night's Dream, and The Imposters.

Dr. Michael Brescia will receive a NIAF Special Achievement Award for Humanitarian Service. Dr. Brescia is credited with developing the Brescia-Cimino Fistula, a procedure that creates a safe, reliable vascular access to sustain kidney dialysis treatment. He was also instrumental in the accreditation of Calvary Hospital in the Bronx. Calvary Hospital treats 2,500 patients a year and is noted for its cancer prevention program.

Mr. Joseph Moglia will receive a NIAF Special Achievement Award in Business. In March 2001 he became CEO of Ameritrade Holding Corp, which he joined from Merrill Lynch. Prior to entering the financial services industry, Mr. Moglia was the defensive coordinator for Dartmouth College's football team. He coached various teams for 16 years, authored a book on football, and wrote 11 articles that were published in national coaching journals. In March 2005, Mr. Moglia was elected to the NIAF board of directors.

The 2005 NIAF East Coast Gala is chaired by Frank Petrilli, NIAF board member and retired CEO of TD Waterhouse USA. CNBC's Maria Bartiromo and Ron Insana are some of the prominent Italian Americans attending the gala.

Dinner tickets start at $300 per person. Attire: Business. To purchase tickets, contact Bonni Cellini at 202/939-3114 or bonni@niaf.org. Register online at www.niaf.org.

The National Italian American Foundation (NIAF) is a non-profit, non-partisan foundation dedicated to promoting the contributions of Italian Americans. Visit our website at www.niaf.org.