The topic is of NIAF's 2013 Photo Contest was Italianità—the Italian spirit or essence; Italianness.
Thanks you to all of the entrants worldwide who submitted more than 200 photos expressing Italianità! So many fantastic photos! NIAF's staff and judges struggled to choose more than 30 semi-finalists, but eventually voted on the First-Place and six Second-Place winners.
The First-Place Prize: Round-trip flights for the winner and guest to Washington, D.C., for NIAF's 38th Anniversary Gala on October 25-26, including a two-night stay at The Washington Hilton, and tickets for the special NIAF Casino Night on Friday, October 25, as well as for all Gala-related events on Saturday, including the Gala Awards Dinner.
First-Place and Second-Place winners also receive a one-year NIAF associate membership, and their winning photos will be displayed at NIAF Central during the Gala as well as published in NIAF's social media pages and in the upcoming winter issue of Ambassador magazine.
Keep your eyes open for the announcement next year for the NIAF 2014 Photo Contest!
First Place Winner
"My Very Own Geppetto"
Marianna Manganiello
Mt. Vernon, N.Y.
Summer 2012
Rome (Lazio), Italy
Camera: Canon digital camera
This past summer, I was fortunate to discover the roots of my very own "Geppetto," the man who crafted my own future here in the United States, my father. Amongst the streets of Dentecane, the taste, fragrance, panorama, texture and soundtrack reminiscent of my father's childhood and of my upbringing were brought to life.
Paralleled with the beauty of this self-discovery, we coincidentally capped the exploration of my family's "woodwork" in Rome, in the wood shop seen in this photo known as "Bartolucci." The moment I captured in this photo encapsulates my experience with the "carpenter" of my own reality and childhood that is shared by many others who are also the dream come to life of their own mothers and fathers who emigrated here from Italy so many years ago. It is an image that expresses everything that is Italianità , which is: creating art with the soul and hands.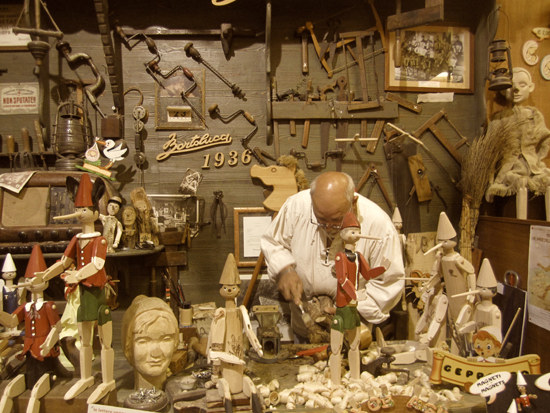 Second Place Winners
"Double Rainbows over Montepulciano"
Michele M. Becci
Doylestown, Penn.
March 2008
Montepulciano (Tuscany), Italy
Camera: Sony Cybershot
"Taken from my hotel room … I had been on a conference call for work during a rain storm, turned to the window and saw this amazing view."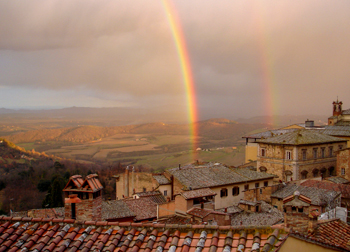 ————————————————————————-
"
Council on World Affairs
"
Donald A. Alessi
East Amherst, N.Y.
April 2000
Cerda (Sicily), Italy
Camera: Sony Cybershot
"This photo in Cerda, Sicily, I believe captures the essence of Italianità by this daily ritual. I call it 'Council on World Affairs' due to the on-going discussions being held on all matters large and small. "All eight subjects were unknown to me when photo was taken. Five years later, the mayor of Cerda was visiting Buffalo, N.Y. As chairman of the host committee, I asked him if he could recognize any in the picture. He gave me the names of all eight and told me two had died since the picture was taken. How Italian is that?"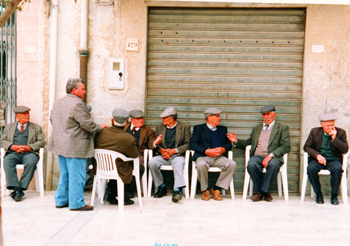 ————————————————————————-
"
Chianalea di Scilla by the Mediterranean
"
Casimir Mruczek
Batavia, N.Y.
June 8, 2013
Chianalea di Scilla (Calabria), Italy
Camera: Nikon D3200
"This photo was taken on the southern tip of Italy in the fisherman town of Chianalea di Scilla. The winding roads and sinewy homes stand beside the Mediterranean Sea, radiating an aura of beauty. Italianità is about family, a sense of being welcomed and feeling at home. The water seems to greet the viewer to join this family and experience the great Italian way of life."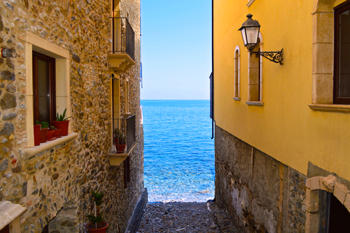 ————————————————————————-
"
Nonna e gatti
"
Gina Furia Rubel
Doylestown, Penn.
June 2012
Burano (Veneto), Italy
Camera: Canon EOS 7D
"Italianità: The essence of being Italian is rooted in tradition. Italians live life and live long. This image depicts 'nonna' eschewing 'gatti' from her front entrance on a hot summer's day in Burano, Italy. The essence of being Italian is living.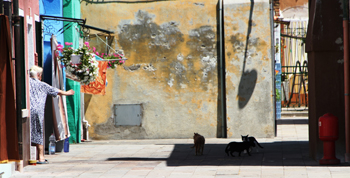 ————————————————————————-
"
Italian Village with Bicycle
"
Christina Conte
Glendale, Calif.
2005
Pescasseroli (Abruzzo), Italy
Camera: Canon Powershot SD940 IS
"This photo was taken in 2005 during a visit back to my mother and father's village in Southern Italy. We took a day trip to the town of Pescasseroli. This picture epitomizes the relaxed atmosphere of living in a small Italian village and brings back memories of my summer times in Italy as a little girl. To me, it is 'Italianità."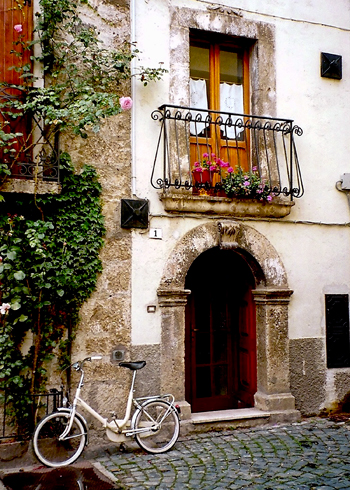 ————————————————————————-
"
Horses at the Colosseum
"
Kelly Simpson
Frederick, Md.
Sept 16, 2013
Rome (Lazio), Italy
Camera: iPhone 4S
"Taken at Colosseum in Rome … Horses have always been my first love no matter where I go on my Italy voyage."