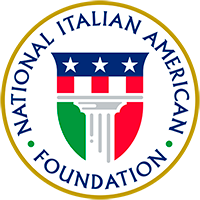 About

Join

Events

Programs

Culture

Support

Ferrero is a premier sponsor of NIAF. Learn More

Thirty University Students Receive Travel Grants To Italy through a National Italian American Foundation Program

FOR IMMEDIATE RELEASE

Contact:   Elissa Ruffino (NIAF) 202/939-3106 or elissa@niaf.org

---

THIRTY UNIVERSITY STUDENTS RECEIVE TRAVEL GRANTS TO ITALY THROUGH A NATIONAL ITALIAN AMERICAN FOUNDATION PROGRAM

*Follow the students virtually at www.niaf.org/voyageofdiscovery *

(WASHINGTON, D.C. – May 16, 2011) Thirty college students from across the United States will participate in the Ambassador Peter F. Secchia Voyage of Discovery program, an all-expenses-paid educational and cultural initiative that sends Italian American students to Italy. Sponsored by the National Italian American Foundation (NIAF), the tour will visit Italy's Campania region from May 30 to June 8, 2011.

"NIAF's Voyage of Discovery program further strengthens the Italian American students' understanding of their heritage and creates greater awareness of Italy as a leader and a vital ally to our nation. The Foundation's signature educational program gives participants an opportunity to explore and understand the land of their ancestors while learning about modern-day Italy," NIAF President Joseph V. Del Raso, Esq. said.

Now in its tenth year, the nine-day NIAF program will include excursions to the southeastern side of Campania, Vallo di Diano, and La Certosa di San Lorenzo, the second-largest Carthusian monastery in Italy, followed by lunch at an Agritursimo, a local working vacation farm. Afterwards, students will tour the Museo (museum) of Joe Petrosino, a former New York City police officer who was a pioneer in the fight against organized crime. A two-hour hike by the Cosilinum Pass is accompanied by an educational workshop in agriculture, wellness and biodiversity. Participants will also celebrate the 150th anniversary of the unification of Italy with the mayors of the mountain community of Vallo di Diano. While on an excursion to the town of Paestum, the group will tour a working mozzarella factory. Students then will visit Caserta and cities along the Amalfi Coast including Sorrento, Vietri and Positano during the remaining part of the trip.

The package, which includes round-trip airfare between the U.S. and Italy, accommodations, meals, guided tours and transfers, is valued at more than $2,500 per student and financed by NIAF. For more information, visit www.niaf.org/voyageofdiscovery.

The National Italian American Foundation (NIAF) is a non-profit organization based in Washington, D.C., dedicated to preserving the heritage of Italian Americans. Visit www.niaf.org.