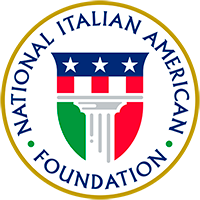 About

Join

Events

Programs

Culture

Support

"The Light in the Piazza"

FOR IMMEDIATE RELEASE

Contact:   Elissa Ruffino (NIAF) 202/939-3106 or elissa@niaf.org

---

MEDIA ADVISORY

Event: A Celebration of Italian Culture at the Tony Award-winning musical "The Light in the Piazza"

Sponsor: The National Italian American Foundation (NIAF)

When: December 13, 2009 at 3 p.m.

Where: Philadelphia Theatre Company
Suzanne Roberts Theatre
480 South Broad Street
Philadelphia, PA 19146
215-985-1400

NIAF's leadership in Philadelphia including President Joseph V. Del Raso, Esq., a partner at Pepper Hamilton LLP, and NIAF's Senior Vice President Matthew DiDomenico, Sr., president of John Matthew Realtors, will host a private reception immediately following the six-time Tony Award-winning "The Light in the Piazza." Italian-American business executives, community leaders and notables will be joined by the cast at an exclusive reception.

During the reception, Mr. DiDomenico, Sr. will introduce Philadelphia's own Joe Del Raso, the first president of NIAF from Philadelphia, who will highlight NIAF's initiatives planned for 2010 in Philadelphia.

Directed by Joe Calarco, "The Light in the Piazza" showcases romance in Italy with this passionate love story set in Florence and Rome during the summer of 1953. While traveling in Italy with her daughter, the mother learns of her daughter's romance and must decide between her daughter's happiness or revealing family truths that would compromise the pending marriage.

Ticket cost: $100 per person and $50 for students and faculty includes NIAF's special reception following the play. To purchase tickets contact Rachel Salerno, rsalerno@niaf.org, 202/939-3122.

MEDIA NOTE: Members of the media who wish to attend the event please contact Elissa Ruffino (NIAF) elissa@niaf.org, 202/939-3106 or Natasha Borato at natasha@niaf.org or 202/939-3116.

The National Italian American Foundation (NIAF) is a nonprofit, nonpartisan educational foundation that promotes Italian American culture and heritage. NIAF serves as a resource on the Italian American community and has educational and youth programs including scholarships, grants, heritage travel, and mentoring.