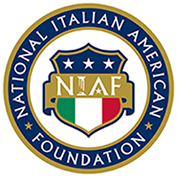 About

Support

Membership

Programs

Culture

Stars To Attend Private NIAF Reception after Bocelli Concert at Staples Center in Los Angeles

FOR IMMEDIATE RELEASE

Contact:   Elissa Ruffino (NIAF) 202/939-3106202/939-3106 or elissa@niaf.org

---

(LOS ANGELES, CA – November 26, 2001) Actors Beverly D'Angelo, Robert Loggia, Joe Mantegna, Ray Romano of "Everybody Loves Raymond" and Antonio Sabato, Jr. are among the celebrities attending the National Italian American Foundation's (NIAF) private reception immediately following Italian tenor Andrea Bocelli's performance on Friday evening, November 30th at the Staples Center in downtown Los Angeles.

The post-dessert party hosted by the NIAF is for people who have purchased their premium concert tickets through the Foundation to benefit the NIAF/Bocelli Scholarship in Music. The NIAF has secured 100 of the best seats in the house, including select first row-seats. The concert is part of the Italian tenor's Fall/Winter North America Tour.

The NIAF benefit concert and private reception package will sell for $500 per person, with the proceeds of $100 per person to benefit the NIAF/ Andrea Bocelli Scholarship. All seats are in the VIP section. A limited number of first and second row seats for $1,000 are available.

"We look forward to listening to one of the great tenors of our era, Andrea Bocelli," said NIAF President Joseph Cerrell and public affairs executive in Los Angeles. "Andrea has been a wonderful friend to our Foundation by giving a portion of the concert's proceeds to a NIAF scholarship established in his name," added Cerrell. The VIP tickets with post-concert reception will be sold on a "first-come, first-served basis." For tickets, contact: Michael Sanzi at 202/387-0600 michael@niaf.org

In October 2000, Andrea Bocelli received the National Italian American Foundation's U.S./Italy Friendship Award during the NIAF gala awards dinner in Washington, DC. President Clinton, Muhammad Ali and more than 3,100 prominent Italians and Italian American leaders in business, sports, entertainment, the professions, and government attended the dinner. Bocelli also performed via satellite with the Boccherino Institute Youth Orchestra from Lucca, Italy during the NIAF gala in honor of the Foundation's 25th anniversary.