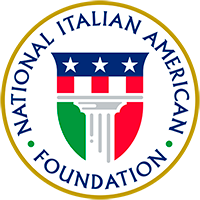 About

Join

Events

Programs

Culture

Support

Scholarships Available Through the National Italian American Foundation

FOR IMMEDIATE RELEASE

Contact:   Elissa Ruffino (NIAF) 202/939-3106 or elissa@niaf.org

---

SCHOLARSHIPS AVAILABLE THROUGH THE NATIONAL ITALIAN AMERICAN FOUNDATION

*Visit www.niaf.org/scholarships to Apply*

(WASHINGTON, D.C. — January 5, 2009) More than 100 scholarships will be available to students through the National Italian American Foundation (NIAF) for the 2009-2010 academic year. The Foundation has awarded millions of dollars in scholarships and cultural grants since its inception in 1976, including one million dollars in 2008.

NIAF celebrates its 34th anniversary this year. Since NIAF's inception, the scholarship program has grown from four scholarships of $250 each to more than 100 annual scholarships ranging from $2,000 to $15,000 each in the humanities, medicine, engineering, business, music, Italian language and culture, and other specialized fields. Last year, the average scholarship to students in the United States was worth more than $4,000.

"My grandmother is my inspiration to teach Italian," said Jamie Restivo, a 2008 NIAF scholarship recipient. "I want to be able to reach people who are facing issues in life because of language barriers. I am moving towards becoming an Italian professor in the near future. NIAF's scholarship has inspired me to give back to the community. One day, I hope to help students achieve their goals just as NIAF has helped me."

Applicants either must be of Italian descent, with at least one ancestor who has emigrated from Italy, or students of any ethnic background majoring or minoring in the Italian language, Italian studies, Italian-American studies or a related field. NIAF scholarship recipients are selected based on academic merit. Students must have a minimum GPA of 3.5 to apply.

Contributors to the NIAF scholarship program include individuals, corporations, and organizations across the U.S. NIAF will also consider matching scholarships with other organizations.

Apply online for a 2009-2010 NIAF scholarship at www.niaf.org/scholarships. Application deadline is March 6, 2009.

To establish a NIAF scholarship, contact NIAF Director of Education and Culture Serena Cantoni at 202/939-3111 or serena@niaf.org.

NIAF is a non-profit organization based in Washington, D.C., and dedicated to preserving the heritage of Italian Americans. Visit www.niaf.org.