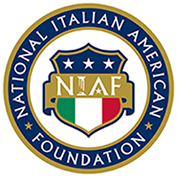 About

Support

Membership

Programs

Culture

President Barack Obama Praised Contributions of Italian Americans in the United States at NIAF Gala

FOR IMMEDIATE RELEASE 

Contact:   Elissa Ruffino (NIAF) 202/939-3106 or elissa@niaf.org

---

(WASHINGTON, D.C. – November 4, 2011) President Barack Obama delivered the keynote address during the National Italian American Foundation's (NIAF) 36th Anniversary Awards Gala at the Washington Hilton on October 29, 2011. In his speech, the President recalled the history of the U.S. Italian American community and how it offers lessons in regards to the struggles of immigrants today. "Italians came to this country and didn't ask for anything," he said.
More than 2,000 guests rose to their feet to welcome President Obama as he walked across the dais greeting NIAF's leadership, prominent political and entertainment notables.

Democratic Leader of the United States House of Representatives Hon. Nancy Pelosi introduced President Obama calling him "the custodian and chief of the American Dream and commander-in-chief of our men and women in uniform. He is an inspiration to many and certainly a hope to the world." She continued, "Everyone in this room is a true believer in the American Dream."

Maria Bartiromo, Emmy award-winning journalist and a member of NIAF's Board of Directors, was the mistress of ceremonies for the Foundation's annual black-tie gala. To commemorate the 10th Anniversary of September 11, 2001, Bartiromo opened the gala with a video "The Power of One: 9/11 Unity and Hope," composed by Alfio, famed Italo-Australian singer.

Secretary of the Department of Homeland Security Hon. Janet Napolitano led a NIAF special tribute to the men and women who have courageously served our nation and humanity on that fateful day in history. Members of the New York Police Department (NYPD) Columbia Association, the New York City Fire Department (FDNY) Columbia Association were recognized as well as Rev.Raymond Nobiletti, M.M. pastor of the Church of the Transfiguration, who was one of the first responders, and gave the gala invocation.

To open the gala awards ceremony, NIAF Chairman Jerry Colangelo recognized the work of the honorees. He thanked the guests for their participation which allows us to accomplish the Foundation's mission. He acknowledged the presence of the Italian American Congressional Delegation of the 112th United States Congress, including U.S. Representatives John Mica andMichael Grimm.

Emma Marcegaglia, president of Confindustria and CEO of Marcegaglia S.p.A., came to the podium to receive the NIAF Special Achievement Award in Women's Leadership from NIAF Vice Chairman Hon.Patricia de Stacy Harrison. "She (Marcegeglia) is proud of her heritage and moves every day to take the opportunity as she says, to challenge the past and build the future," stated Harrison.

Hon. Santo Versace, president of Gianni Versace S.p.A. and chairman of Fondazione Operation Smile Italia Onlus, received the NIAF Special Achievement Award in Philanthropy. Hon. Amato Berardi, U.S. Representative for the Italian Chamber of Deputies in Italy, presented the award to Versace.

NIAF Special Achievement Awards in International Business were awarded to Claudio Bozzo, president of the Mediterranean Shipping Company (USA), and Paolo Scudieri, CEO of Adler Plastic S.p.A. They received their awards from Nicola Arena, chairman of MSC and NIAF's Senior Executive Vice President Matthew J. Di Domenico Sr., respectively.

Hon. Capri Cafaro, minority leader of the Ohio Senate, was presented with the NIAF Youth Leadership Award by former U.S. senator Alfonse D'Amato. "I accept this award on behalf of my family for their hard work that has made me strong and resilient," stated Cafaro. "Italian American women need to survive not as instant celebrities on television but to shape the future to become intellectual leaders that make a difference."

Hon. Louis J. Freeh, former director of the Federal Bureau of Investigation (FBI), presented Hon.Frank J. Guarini, former U.S. Congressman and NIAF Chairman Emeritus, with the NIAF Lifetime Achievement Award in Leadership. Referring to the audience, Guarini exclaimed, "You are the people that make NIAF work, our real heroes are our forbearers." Guarini has served as NIAF chairman, president and a member of the Foundation's Board of Directors since 1988. At NIAF, he championed the preservation of our heritage through the study of the Italian language and the reinstatement of the College Board's Advanced Placement Program (AP) in Italian Language and Culture.

Rock and Roll Hall of Famer Dion DiMucci was presented with the NIAF Special Achievement Award in Entertainment by '50s and '60s music icon Frankie Avalon. Dion spoke about his grandfather, Tony, who came to America from Bari in 1907. "It was my grandfather who took me to the opera and what a blessing to me," he said. "My father was an artist; he encouraged the wonder of life in me."

Robert Pisano, chairman for the Motion Picture and Television Fund and former president of the Motion Picture Association of America, presented Frank G. Mancuso Sr., former chairman and CEO of Paramount Pictures and Metro-Goldwyn-Mayer Studio, with the NIAF Jack Valenti Institute Award. Pisano noted, "Frank Mancuso defined himself of who he was — husband, father, grandfather, but never forgetting his heritage."

NIAF president Joseph V. Del Raso, Esq. informed guest of a tribute to and celebration of American and Italian military servicemen and wounded warriors that took place at the National Archives on October 27. Co-chairing the dinner were Gen. Peter Pace, USMC (Ret.), a NIAF Board member, and NIAF vice chairman Vincent Viola, who presented the inaugural Gunnery Sergeant John Basilone Award for Distinguished Military Service to Gen. Raymond T. Odierno and his son, U.S. Army First Lieutenant Anthony K. Odierno (Ret.). Hon. Anita Bevacqua McBride organized the special military dinner.

Prior to the military dinner NIAF hosted mentoring and training Veteran Day Workshops that brought together returning military armed service veterans with business executives and entrepreneurs.

During the gala NIAF President Joseph Del Raso introduced Italy's Minister of Youth Policy Giorgia Meloni and added "You have our heartfelt thanks for your service and sacrifice to our nation."

An official delegation from Calabria, Italy, including Fondazione dei Calabresi nel Mondo attended a special reception at the Foundation's headquarters to sign an agreement between the region and NIAF to further promote culture, scholarships, tourism and exhibitions of ancient treasures on October 29. In 2012, the region of Calabria will serve as the region of honor at NIAF's 37th Anniversary Awards Gala. Additionally, NIAF signed an agreement, "The Dream of Rome," with the city of Rome, and NIAF Italia. NIAF's president Joseph Del Raso joined the deputy mayor of RomeSveva Belviso, and Paolo Catalfamo, president of NIAF Italia. This agreement will promote Italy's artifacts on display in Philadelphia, Miami, Chicago, Los Angeles, San Francisco and New York.

Notables in attendance during the gala weekend included actors Joe Pantoliano, Tony Lo Bianco, John Doman and David Faustino; singer and actor Robert Davi; Italian fashion model Fabio,Ambassador of Italy to the United States, H.E. Giulio Terzi di Sant'Agata; U.S. Ambassador to ItalyDavid Thorne; in addition to sports and television personalities including ESPN's Tony Reali,legendary NFL coach Dick Vermeil, and Twelve-time MLB All-Star Mike Piazza. Singer and songwriterGiada Valenti, who was born and raised in Venice, Italy, sang "Fratelli d' Italia," Italy's national anthem. Actress and singer Christina Carlucci, a student at New York University Tisch School of Arts, sang the U.S. national anthem.

NIAF Gala Chairman Gabriel A. Battista, Gala Convention Chairman Dr. Thomas M. Scalea and gala committee members Dr. John P. Rosa and John Calvelli were on hand throughout the weekend to welcome dignitaries as well as encourage guests to bid on one-of-a-kind auction items during the Foundation's Celebrity luncheon and auction.

This year, NIAF awarded more than $1,000,000 for scholarships and cultural grants across the U.S. and Italy. Recognizing the younger generation, NIAF organized "The Hub," a lounge in Expo Italia dedicated to NIAF youth.

To further encourage excellence in education, Kerry Titone, Italian teacher of five years at Northport High School in Northport, N.Y., was the recipient of the eighth annual NIAF Teacher of the Year Award. Patricia Harrison and Matthew DiDomenico, who also chairs NIAF' s scholarship and grants committee, presented the award to Titone, a member of the American Association of Teachers of Italian and the Long Island Language Teachers, during the Victoria J. Mastrobuono Education Luncheon. The Mastrobuono luncheon included a special tribute to the late Hon. Geraldine A. Ferraro, led by former NIAF Vice Chair and Ferraro friend Aileen R. Sirey, Ph.D.

Headlining for NIAF's Friday Night Entertainment was the Radio King Orchestra. Singer Christina Fontanelli made a special appearance during Glacier Vodka's Salute to the Martini.

Other weekend events included Expo Italia, a two-day exhibition showcasing the best of Italy, special presentations by Sergio Grasso, Italian food-anthropologist, and a performance by Elio Scaccio. Also during the gala weekend, NIAF hosted the NIAF National Council Network/Youth Networking Continental Breakfast. The convention also featured the NIAF Walk of Honor Unveiling Ceremony, "New Frontiers in Cancer Prevention Research," a seminar on cancer prevention chaired by Dr. Antonio Giordano, president and founder of Sbarro Health Research Organization Inc., and "The Italian American Vote, Does it Count?," a conference featuring Washington insiders.

Bartiromo closed the evening by inviting all to attend the Chairman's After Hours Event featuring performances by Christopher Macchio and Salvo Randazzo immediately following the gala.

Proceeds from NIAF's Anniversary Weekend events will benefit NIAF's educational programs. Mark your calendars for October 12-13, 2012 when we celebrate NIAF's 37th Anniversary Convention Weekend in Washington, D.C.

NIAF is a non-profit organization based in Washington, D.C., and dedicated to preserving the heritage of Italian Americans. Visit www.niaf.org.