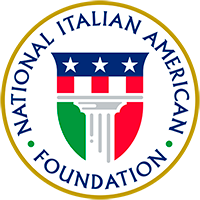 About

Join

Events

Programs

Culture

Support

Piazza D'italia-Best of Italy Exhibition at NIAF Convention in Nation's Capital

FOR IMMEDIATE RELEASE

Contact:   Elissa Ruffino (NIAF) 202/939-3106 or elissa@niaf.org

---

PIAZZA D'ITALIA-BEST OF ITALY EXHIBITION AT NIAF CONVENTION IN NATION'S CAPITAL

*Free Wine Tastings, Cooking Demonstrations, Musical Performances*
**Celebrity Guests to Attend**

(WASHINGTON, D.C. – September 29, 2009) Following the success of last year's Piazza d'Italia, the National Italian American Foundation (NIAF) will again host a two-day exhibition showcasing the best of Italian food, wine, fashion and culture as part of the NIAF's 34th Anniversary Awards Convention Weekend. Piazza d'Italia will be held on Friday, October 23 from 9 a.m. to 5 p.m. and on Saturday, October 24 from 9 a.m. to 1 p.m. at the Hilton Washington in Washington, D.C. Piazza d'Italia is free and open to the public.

LM Wines, the official wine sponsor, will offer tastings of wines from Italy's various regions. Exhibitors include PepsiCo, Colavita/Perugina, Trello Chocolates, Bethesda Travel Center, Forzieri Fashions, and Del Grosso Foods. Vendors will offer samples of olive oils, chocolates, gelato, pasta, and display top-of-the-line products from Italy. Piazza d' Italia also will display a large variety of items from the Abruzzo region and the city of L'Aquila which was devastated by an earthquake earlier this year.

Additionally, guests can attend a luncheon with keynote speaker on Friday, October 23 from noon to 2:30 p.m., a seminar on the culture of food and wine from 2:30 to 4 p.m. and the screening of the documentary "Pane Amaro (Bitter Bread): The Italian American Journey from Despised Immigrants to Honored Citizens" by a NIAF grant recipient from 4 to 6 p.m. On Saturday, October 24, there will be a celebrity auction and luncheon from 11 a.m. to 2 p.m., a public policy seminar and a conference from 2:30 to 4:30 p.m.

Italy's famed singer and songwriter Antonello Venditti will give an exclusive performance on Friday evening in the hotel's International Ballroom. Venditti, one of this year's gala honorees, will receive a NIAF Special Achievement Award in Music. Exhibitor information, photos, floor plans, travel information, and exhibit space request forms can be found on the NIAF Web site, www.niaf.org/piazza.

For more information, contact Tom DiStefano at 202/939-3113 or piazza@niaf.org piazza@niaf.org. For events and ticket information for NIAF's 34th Anniversary Awards Convention Weekend, visit www.niaf.org.

The National Italian American Foundation (NIAF) is a non-profit organization dedicated to preserving and promoting the heritage and culture of Americans of Italian descent.