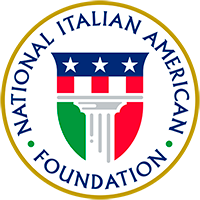 About

Join

Events

Programs

Culture

Support

Official Statement on the Passing of NIAF CHAIRMAN DR. A. Kenneth Ciongoli

FOR IMMEDIATE RELEASE

Contact:   Elissa Ruffino (NIAF) 202/939-3106 or elissa@niaf.org

---

OFFICIAL STATEMENT ON THE PASSING OF NIAF CHAIRMAN
DR. A. KENNETH CIONGOLI

Attribute to the National Italian American Foundation (NIAF) Board of Directors

————-
In commemoration of his life and spirit, donations in lieu of flowers can be made to:

The Dr. A. Kenneth Ciongoli Colloquium Endowment
CLICK HERE to lean more.

————-

October 28, 2008 The National Italian American Foundation Board of Directors is deeply saddened by the death of our chairman, Dr. A. Kenneth Ciongoli, who passed away today at his home in Burlington, Vt., after battling cancer for more than a year. All who worked with him during the 18 years in which he served as the Foundation's president, vice chairman, and member of the Board of Directors will feel the loss of his leadership and dedication.

Ken was admired and respected by Italian leaders, the Italian American community and all ethnic groups. A warm, generous and loving man, Ken believed deeply in his heritage. He was a tireless champion in the fight against ethnic stereotyping of any individual or group.

A prominent neurologist, Ken's dual commitment to heritage and science defined his career. In 1980, he was appointed senior medical officer of the United States Olympic Team for the Lake Placid, New York games; fittingly, more than 25 years later, he returned to the Olympics in 2006 – this time as part of a delegation of prominent Italian Americans appointed by President George W. Bush to represent the United States in Torino, Italy.

The many projects that he championed, including NIAF's annual Roman Roundtable conferences in Italy, the establishment of the Gay Talese Writers Series and his support of education through "NIAF Visits the Ivies," a program examining why Italian-Americans are under-represented at Ivy League institutions, will serve as his legacy.

His love and passion in life was to challenge young Italian Americans to step up and move the Foundation's mission forward.

His unique leadership and inspiration will be greatly missed.

Contact: Elissa Ruffino, 202/939-3106, elissa@niaf.org

NIAF is a non-profit organization based in Washington, D.C., and dedicated to preserving the heritage of Italian Americans. Visit www.niaf.org.