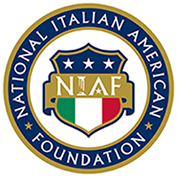 About

Support

Membership

Programs

Culture

NYC Media Networking

FOR IMMEDIATE RELEASE 

Contact:   Elissa Ruffino (NIAF) 202/939-3106 or elissa@niaf.org

---

The University Club in Manhattan was the setting for the National Italian American Foundation's (NIAF) fifth annual New York media networking dinner on March 10. The evening was an opportunity for Italian American and Italian journalists to socialize with colleagues and the Foundation's leadership while learning about NIAF and its initiatives for 2005. The dinner was co-chaired by Jamie Colby, a correspondent/anchor for Fox News Channel, and Charles Gasparino, a senior writer at Newsweek. Prior to the dinner, Gasparino signed copies of his recently-published book "Blood on the Street: The Sensational Inside Story of How Wall Street Analysts Duped a Generation of Investors."

The Wall Street Journal, New York Post, NY-1, Business Week, Bloomberg, CBS MarketWatch, New York Daily News, Newsweek, CBS News, Fox News, Barron's Magazine, Newsday, La Nazione, Corriere della Sera, and ANSA are some of the media outlets that were represented at the dinner, which was underwritten by Hill & Knowlton, a leading international communications consultancy. During the event, NIAF scholarship recipient Nicholas Frangella, a freshman at NYU majoring in Italian and business, thanked NIAF for helping him reach his educational goals.

Stephen Aiello, senior consultant at Hill & Knowlton and chair of the NIAF public affairs committee, welcomed everyone and recognized his fellow board members in attendance including Ken Aspromonte, Jeff Capaccio, Esq., John Calvelli, Joseph Cerrell, Dr. A. Kenneth Ciongoli, Arthur J. Furia, Esq., Hon. Marie Garibaldi, Hon. Frank J. Guarini, Hon. Dominic Massaro, Sal Salibello andSalvatore J. Zizza. Guarini addressed the guests about some of the major programs and initiatives at NIAF, the "one-stop" source for information about Italian Americans and issues important to the Italian American community.

This year NIAF has already held media networking events in Chicago, Los Angeles, San Francisco and Phoenix. NIAF holds the events to allow journalists an opportunity to escape their busy schedule for a few hours of meeting with colleagues and celebrating their shared Italian ancestry and culture.