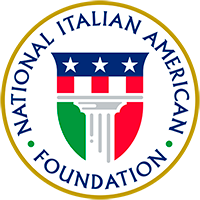 About

Join

Events

Programs

Culture

Support

NIAF Supports the John F. Kennedy Center's Unexpected Italy Performance Series with $10,000 Grant

FOR IMMEDIATE RELEASE

CONTACT:
Natalie Wulderk
202-939-3117
nwulderk@niaf.org

---

–  The series of Italian-focused performances is scheduled at the Kennedy Center and Carnegie Hall in May 2019 –

 (WASHINGTON, D.C. – April 5, 2019) The National Italian American Foundation (NIAF) is pleased to announce that it has donated $10,000 to support Unexpected Italy, as a series of performances showcasing the breadth and depth of Italy's artistic and cultural contributions to the world. The performances, presented by the John F. Kennedy Center for the Performing Arts, the National Symphony Orchestra (NSO) and the Washington National Opera (WNO), are scheduled throughout May in Washington D.C., as well as one concert at Carnegie Hall in New York City.

"Unexpected Italy is a celebration of Italy's extraordinary artistic and cultural heritage, which I am pleased that the Foundation can take part in and support. This series of 12 performances over the course of May is a wonderful way to promote Italy's many significant contributions to our society," said NIAF Vice Chair of Cultural Affairs Anita Bevacqua McBride.

Italy's Ambassador to the United States, Armando Varricchio, is serving as the honorary chair of the project.

"On behalf of NIAF, we offer our congratulations to Ambassador Armando Varricchio in his role as the Honorary Chair of Unexpected Italy. His important leadership ensures that Unexpected Italy will connect to diverse publics expanding our appreciation of Italy's cultural contribution to the world encompassing both the past and the future," said NIAF Chair Patricia de Stacy Harrison.

Unexpected Italy was inspired by Gianandrea Noseda's vision and passion for his native country, Italy. In 2016, he was named the NSO's seventh music director. To the delight of music enthusiasts, his contract has been renewed through to the 2024-2025 season.

"Gianandrea Noseda is one of the world's most acclaimed conductors, having both prestigious positions in concert halls and opera houses alike. We are thrilled that Unexpected Italy aligns with NIAF's mission to promote Italian culture and heritage. On behalf of the Foundation, I am extremely happy that we could financially support Noseda's artistic vision as well as partner with one of our nation's most important cultural institutions, the John F. Kennedy Center for the Performing Arts," said NIAF Chair Gabriel A. Battista.

Noseda holds the honor of Cavaliere Ufficiale al Merito della Repubblica Italiana, for his contributions to the artistic life of Italy. He was the recipient of the 2015 Conductor of the Year award from Musical America. He also serves as Principal Guest Conductor of the London Symphony Orchestra and Israel Philharmonic Orchestra, Principal Conductor of the Orquestra de Cadaqués, and Artistic Director of the Stresa Festival in Italy. In July 2018, the Zurich Opera House appointed Noseda the next General Music Director beginning in the 2021–2022 season.

Below is the list of the Unexpected Italy performances throughout the month of May:

May 11-25
Washington National Opera
Puccini: Tosca
Speranza Scappucci, conductor
WNO presents one of the most famous of all Italian operas, Giacomo Puccini's Tosca.  This story of love and politics set in 19th-century Rome will feature Keri Alkema and Latonia Moore in the title role of Tosca, Riccardo Massi and Robert Watson as Cavaradossi, and Alan Held as the villain Scarpia.

May 16-17
National Symphony Orchestra
Gianandrea Noseda, conductor
Maestro Noseda and the NSO will be joined by a quartet of celebrated singers in Gioachino Rossini's dramatic Stabat Mater.  This program also features Franz Liszt's Dante Symphony, based on Dante Alighieri's journey through Hell and Purgatory, as depicted in The Divine Comedy.

May 19
National Symphony Orchestra at Carnegie Hall
Gianandrea Noseda, conductor
Performing together at Carnegie Hall for the first time, this concert represents a landmark moment in the artistic partnership between the NSO and Maestro Noseda. The program will include Rossini's Stabat Mater and Liszt's Dante Symphony. This very high-profile performance is sure to be a highlight of both the NSO season and the Italy celebration.

May 21
Mario Biondi
Born in Catania, Italy, singer and composer Biondi has presented memorable collaborations with Chaka Kahn and Michael Bolton.  His most-recent album, Brasil, was released in 2018.

May 26
Simona Molinari
Born in Naples, Italian singer/songwriter Simona Molinari started singing as a child, showing an early fondness for jazz and graduating from the Conservatory of L'Aquila.  Her hits include In Search of You and Egocentrica.

May 28
Doctor 3
An Italian jazz trio formed by Danilo Rea on piano, Enzo Pietropaoli on double bass, and Fabrizio Sferra on drums, Doctor 3 has recorded several hits since 1997.

May 30 and June 1
National Symphony Orchestra
Gianandrea Noseda, conductor
This program showcases Respighi's Ancient Airs and Dances – Suite No.2, Casella's Symphony No. 2, and Rachmaninoff's best-known work, Rhapsody on a Theme of Paganini, featuring pianist Francesco Piemontesi.

May 31
Ludovico Einaudi
The Italian composer and pianist incorporates styles and genres such as pop, rock, folk and world music into his performances.

In addition, as part of the Unexpected Italy series, artists will perform at the Kennedy Center Millennium Stage. These concerts are free and open to the public daily at 6 p.m. Currently confirmed dates and artists include:

May 3
Chiara Izzi
An award-winning Italian singer/songwriter, Izzi's style is based on her own unique interpretation and fusion of various genres, including jazz, pop and Mediterranean sounds.

May 5
Vinicio Capossela
Strongly influenced by U.S. singer/songwriter Tom Waits, Capossela also draws inspiration from Italian folk music.

May 12
Paolo Angeli
Guitarist, composer, and ethnomusicologist, Angeli is an instrument-builder associated with traditional Sardinian, flamenco, jazz, post-rock and experimental music.

May 16
Joe Barbieri
Singer, songwriter, and producer, Barbieri's sound combines world music, jazz, and the tradition of the Italian cantautori.

To complement these Italian-focused performances, the Kennedy Center will highlight the global influence of Italian cuisine, featuring one of Maestro Noseda's signature recipes, and presenting Italian-themed menus, wines, cordials and coffees in the Roof Terrace Restaurant, KC Café, and in the Grand Foyer.

For more information about Unexpected Italy and to purchase tickets, visit: www.kennedy-center.org/.

---

The National Italian American Foundation (NIAF) is a non-profit, non-partisan organization dedicated to preserving, promoting and protecting the Italian American heritage and culture. To learn more about the Foundation and become a member, please visit www.niaf.org.