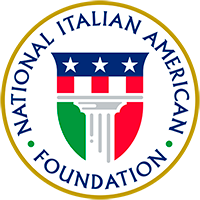 About

Join

Events

Programs

Culture

Support

NIAF Networks in San Francisco

FOR IMMEDIATE RELEASE

Contact:   Elissa Ruffino (NIAF) 202/939-3106 or elissa@niaf.org

---

NIAF highlighted technology and sports marketing during the Frank J. Guarini/NIAF Media Forum at the Italian Consul General's private residence in San Francisco. Sonny Vaccaro, the keynote speaker at the seventh annual dinner on February 26, 2009, pioneered grass roots marketing as an executive for Nike, Adidas and Reebok. Vaccaro discussed how his heritage allowed him to explore his dreams with more than 50 journalists of Italian ancestry. Founder of the Round Ball Classic and summer leagues, Vaccaro gave youngsters an opportunity to perform and excel in sports.


Georgia Duan, NIAF scholarship recipient; Jeffrey M. Capaccio, Esq., NIAF regional vice president; and Elisabetta Gasparoni-Abraham, NIAF Students to Leaders participant

Vaccaro has embarked on another ambitious project–opening up professional international basketball for U.S. high school graduates. His first experiment involves placing National Basketball Association (NBA) draft prospect, Brandon Jennings, with the Roma Virtus division A 1 basketball team. Rome attorney Giovanni Imbergamo, who represents the 18-year old California native Brandon Jennings, traveled from Italy to attend the media forum. Vaccaro close to his Italian roots, wanted Rome to serve as the launch pad for this ground breaking initiative.

NIAF Regional Vice President Jeff Capaccio provided introductory remarks and highlighted the outstanding accomplishments of the many Italians and Italian Americans who have excelled in the field of technology. Capaccio thanked the evening's host Marcello Curci, deputy consul general in San Francisco. Curci spoke about the ingenuity of Italian engineers in the Bay area and the excellence we can find in all things Italian, especially in this unique area of California.

Guests enjoyed Italian specialties from Liguria, Italy prepared by Genova's own, Chef Paolo La Boa of Farina Focaccia & Cucina Italiana, and wines provided by Lorenzo Scarpone of Villa Italia. Scarpone had the guests sample his family's vintage Scarpone, a well balanced Montepulciano d'Abruzzo, Olivers a limited production pinot grigio by Pierpaolo Pecorari and Grechetto, Arnaldo Caprai's critically acclaimed take on the indigenous white wine grape from Umbria.


Sonny Vaccaro, former sports marketing executive, and Narda Zacchino of Time Capsule Press

The media forum, co-hosted by Dianne Nicolini, midday announcer at KDFC radio, and Joe Garofoli, political writer at the San Francisco Chronicle, showcased NIAF's educational programs and recognized NIAF award recipients Georgia Duan, a scholarship recipient majoring in voice performance at the San Francisco Conservatory of Music, and Elisabetta Gasparoni-Abraham, a master's candidate at the San Francisco State University.

Each guest received a signed copy of "Boots on the Ground by Dusk," by Mary Tillman and Narda Zacchino. Zacchino, a former executive editor of the San Francisco Chronicle and editor of Time Capsule Press, has served as NIAF's media co-chair in San Francisco.

The previous evening, Bill Schneider, CNN's senior political analyst, was the keynote speaker at the Foundation's Media Forum at Lawry's The Prime Rib in Beverly Hills. Schneider discussed "The First 100 Days," followed by questions from the journalists.

In Phoenix, NIAF Vice Chairman Jerry Colangelo opened the first in a series of Frank J. Guarini/NIAF Media Forums at The Pointe-Hilton Tapatio Cliffs Resort on February 24, 2009. At the luncheon, Colangelo discussed his experience in assembling the 2008 United States Men's Basketball Olympic team, winner of the gold medal in Beijing, China to local media professionals.


Carla Marinucci of the San Francisco Chronicle; Lorenzo Scarpone of Villa Italia Wines; and Dianne Nicolini of KDFC 102.1 FM

The media forums give professionals in the communications field an opportunity to foster working relationships with colleagues and learn about the Foundation's exciting youth initiatives. Through these events, NIAF cultivates an excellent rapport with members of the media, promotes Italians and Italian Americans, and encourages all to preserve our rich culture. NIAF has planned similar events for other major cities throughout the U.S.