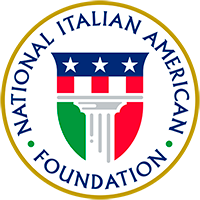 About

Join

Events

Programs

Culture

Support

Ferrero is a premier sponsor of NIAF. Learn More

NIAF Leadership Joins President of Region of Lombardy To Announce $100,000 NIAF Grant To Support "Save The Saint" Restoration Project at Duomo in Milan

FOR IMMEDIATE RELEASE

Contact: Elissa Ruffino, 202-939-3106, elissa@niaf.org

______________________________________________________________________________________________________

 (WASHINGTON- D.C.—June 19, 2015)  National Italian American Foundation (NIAF) Chairman Joseph V. Del Raso, President John M. Viola, the Foundation's executive committee, and members of the Italian American Leadership Council (IALC), will join Roberto Maroni, president of the Region of Lombardy, at a press conference on June 23 at 10 a.m. at Belvedere di Palazzo Lombardia, announcing the $100,000 NIAF Grant to restore the statue of the first American Saint, Frances Xavier Cabrini, at the Duomo in Milan.

NIAF's Board of Directors recently voted to create a special one-time NIAF Emanuele and Emilia Inglese Memorial Grant of $100,000 to support the "Save the Saint" restoration project by the International Patrons of Duomo di Milano.

"We at the National Italian American Foundation are incredibly proud to be the lead sponsor from our Italian American community in this effort to restore the Mother Cabrini spire," NIAF President John M. Viola said.  "It means a great deal to us that American's first Saint is an Italian American like we are, and I cannot imagine a better testament to all Italian Americans and our values than this beautiful sculpture atop one of the most spectacular constructions in Italy and the world."

The statue of Frances Xavier Cabrini is one of the 135 spires available for restoration through the "Save the Saint" project. Mother Frances Cabrini arrived in New York in 1889 from Sant' Angelo Lodigiano, in Italy's Region of Lombardy. She worked with the Italian American community, cared for its orphans, and constructed schools and hospitals. Later she founded the Missionary Sisters of the Sacred Heart to aid Italian immigrants in New York. She became an American citizen in 1909 and the first American saint in 1946. Her statue was placed in the Duomo in 1956 in remembrance of her beatification.

NIAF is pleased to work with the International Patrons of Duomo di Milano, a charitable New York City-based organization, established in 2014 to raise awareness of the Duomo in Milan. Its mission is to collect donations to support the conservation, restoration, protection and valorization of the cathedral.

The National Italian American Foundation (NIAF) is a non-profit organization dedicated to preserving and promoting the heritage of Italian Americans. Visit www.niaf.org.