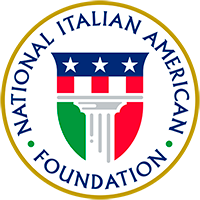 About

Join

Events

Programs

Culture

Support

Ferrero is a premier sponsor of NIAF. Learn More

NIAF Italy-America Friendship Award; Gala Honorees and Awards; Italian Dignitaries

FOR IMMEDIATE RELEASE

Contact: Elissa Ruffino, 202-939-3106, elissa@niaf.org

______________________________________________________________

EVENT: NIAF 39th Anniversary Awards GalaSPONSOR: The National Italian American Foundation

WHEN: Saturday, October 25, 2014; 5;30-6:30 p.m. Reception; 7 p.m. Dinner and Awards 

WHERE: The Washington Hilton, 1919 Connecticut Avenue, Washington, D.C.

During the NIAF 39th Anniversary Awards Gala, as the Foundation celebrates Italian American culture and heritage, noted actor, writer and director John Turturro, who is featured in the highly anticipated PBS documentary series "The Italian Americans," will showcase the project before thousands of black tie-guests from across the United States and Italy.

At the NIAF Gala, Turturro also will receive the NIAF Special Achievement Award in Entertainment. Joining Turturro as gala honorees are: Daniel D'Aniello, co-founder and chairman of The Carlyle Group, who will receive a NIAF Special Achievement Award in Business; Pino Cicala, founder and editor of AMICO and Antenna Italia Radio-TV, who will receive a NIAF Special Achievement Award in Community Leadership; David Cordani, president and CEO of Cigna Corporation, who will receive the NIAF Special Achievement Award in Business and Health; Susan Molinari, vice president of Public Policy and Government Relations at Google, who will receive the NIAF Special Achievement Award in  Public Service; and Pasqualino Monti, president, Port Authority of Rome Civitavecchia, who will receive The Special Achievement Award in International Business.

Special to this year's gala is the presentation of the NIAF Italy-America Friendship Award to Fabrizio Francesco Vinaccia, institutional affairs senior vice president of MBDA Italia S.p.A.

From Italy, the NIAF Gala honorees and special guests will be joined by United States Ambassador to Italy John R. Phillips, Italy's Ambassador to the United States Claudio Bisogniero, Italy's Minister of Economic Development Federica Guidi and United States Consul General in Milan, Ambassador Philip Reeker.  Leading the Delegation from Italy's Region of Lombardia is President Roberto Maroni. He will be joined by Councilwoman of Education Valentina Aprea and Undersecretary of EXPO 2015 Fabrizio Sala.

Co-hosting the weekend's Gala Awards Dinner are NIAF Board member and Emmy Award-winning Fox News Anchor and Global Markets Editor Maria Bartiromo, and NIAF Celebrity Ambassador, actor, entertainer and radio host Joe Piscopo. Special guests include actors Robert Davi and Tony Lo Bianco, award-winning writer and producer John Maggio, and author Maria Laurino. The U.S. and Italian Anthems will be sung by Catherine Altomare.

After the Gala dinner, guests will join celebrities and honorees at the Foundation's famed After Hours Party at The Washington Hilton.

Tickets to Saturday's black-tie gala begin at $350 per person (members), $400 per person (non-members). Tickets to Friday evening's casino night begin at $200 per person. Proceeds benefit NIAF's educational programs.  For tickets or sponsor information, contact Jerry Jones at 202-387-0600 or jerry@niaf.org, or register online at www.niaf.org/gala.

The National Italian American Foundation (NIAF) is a non-profit organization dedicated to preserving and promoting the heritage and culture of Americans of Italian descent. Visit www.niaf.org.