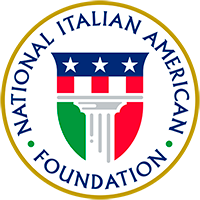 About

Join

Events

Programs

Partnerships

Culture

NIAF Delegation To Donate Land in Italy

FOR IMMEDIATE RELEASE

Contact: Elissa Ruffino,202-939-3106, elissa@niaf.org

________________________________________________________________________________

Sponsor:        National Italian American Foundation (NIAF)

When:             Saturday, June 28, 2014

Time:               11 a.m.

Where:            Casa Famiglia "Salvatore Rosa"

                       Via Madonna degli Angeli, 16

                       81041 Bellona, Province of Caserta

As part of the National Italian American Foundation's Official Mission to Italy to build cultural bridges, the NIAF Delegation will travel to Casa Famiglia "Salvatore Rosa" in the city of Bellona, province of Caserta, to donate a parcel of land that was gifted to the Foundation by the Salvatore Rosa family on June 28, 2014. The real estate is approximately three acres and includes hundreds of olive trees. The olive oil made from the trees on the land will be sold to help support Casa Famiglia.

During the donation ceremony, NIAF's leadership, including Chairman Joseph V. Del Raso, President John M. Viola, its executive committee, and member of the NIAF Board of Directors John. P Rosa, will donate the land to Casa Famiglia "Salvatore Rosa."The delegation will tour the Casa with its president and founder Antonio Randino of HelPeople Foundation ONLUS of Comunita' Educativa 'Sal Rosa." They also will meet children and young adults who were raised at the casa but are now living independently.  Immediately following the ceremony and tour, the Rosa family will host a buffet lunch. For more than 14 years, Casa Famiglia has assisted abused and orphaned children.

The Foundation's Mission to Italy, June 22- 29, 2014, will bring together board members, business leaders and local government officials to discuss key issues influencing cultural, economic and diplomatic relations between our two nations in Campania, NIAF's 2014 Region of Honor. During the Mission, NIAF will hold its international board of directors meeting in Sorrento.

Following the NIAF board meeting, the delegation and local Italian dignitaries will meet the participants of the 2014 Ambassador Peter F. Secchia Voyage of Discovery Program, now in its 15th year. Twenty university students of Italian heritage are participating in this year's program dedicated to strengthening their understanding of their rich cultural heritage, and introducing them to their ancestral homeland and the many contributions Italy is making to the world.

After Sorrento, the delegation travels to Naples for meetings with Hon. Stefano Caldoro, president of the region of Campania, and Hon. Colombia A. Barrosse, consul general to the United States in Naples.

For information about the mission, events and interviews, contact Carlo Piccolo at 349-774-1791 or carlo@niaf.org.

The National Italian American Foundation (NIAF) is a non-profit organization dedicated to preserving and promoting the heritage of Italian Americans. Visit www.niaf.org.