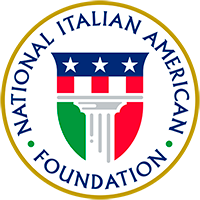 About

Join

Events

Programs

Culture

Support

NIAF Advocate Juanita Campitelli Joins Foundation's Board of Directors

FOR IMMEDIATE RELEASE

Contact:   Elissa Ruffino (NIAF) 202/939-3106 or elissa@niaf.org

---

(Washington, DC – March 19, 2008) Juanita Campitelli, a NIAF council member, has been elected to the Board of Directors of the National Italian American Foundation (NIAF). The election was held March 14 during the Foundation's board meeting at the Embassy of Italy in Washington, D.C.

"In addition to her professional success, Juanita has made a deep commitment to the Italian-American community, and her dedication enhances NIAF's Board," NIAF Chairman Dr. A. Kenneth Ciongoli said.

A longtime NIAF supporter, Campitelli recently established the Anthony Campitelli Endowed Fund. The Fund, named in honor of her late husband, continues his legacy of helping the needy. It supports various humanitarian, educational, and community projects in and around Mr. Campitelli's birthplace, Castel Frentano in Italy.

A former associate at Communications Satellite Corporation in Washington, D.C., Campitelli resides in Bethesda, Md.

Current members of the NIAF Board of Directors include some of the country's top business leaders, including Ben Cammarata, chairman of TJX Companies, Inc.; Rocco B. Commisso, chairman and CEO of Mediacom Communications Corporation; Mario J. Gabelli of Gabelli Asset Management, Inc.; and James J. Schiro, CEO of Zurich Financial Services.

Other newly elected NIAF board members are: Gabriel A. Battista, former executive chairman of Talk America; Robert E. Carlucci, founder and owner of R&R Ventures; Kenneth G. Langone, co-founder of Home Depot and president and founder of Invemed Associates Inc.; John P. Rosa, chiropractor and community organizer; John F. Scarpa, co-founder of American Cellular Network Corporation; and Michael A. Zampardi, business executive and former senior managing director at Bear Stearns.

The National Italian American Foundation (NIAF) is a non-profit organization based in Washington, D.C., dedicated to preserving the heritage of Italian Americans. Visit www.niaf.org.