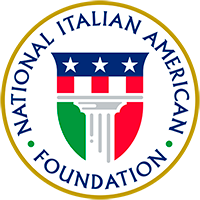 About

Join

Events

Programs

Culture

Support

NIAF 39th Anniversary Awards Gala

FOR IMMEDIATE RELEASE

Contact: Elissa Ruffino, 202-939-3106, elissa@niaf.org

___________________________________________________________

| | |
| --- | --- |
| Event:  | NIAF 39th Anniversary Awards Gala   |
|  Sponsor: |  National Italian American Foundation |
|  When: |  Saturday, October 25, 20145:30-6:30 p.m. Reception: 7 p.m. Dinner and Awards |
|  Where: |  The Washington Hilton1919 Connecticut Ave. NW, Washington, D.C. |

John Turturro, noted actor, writer and director, will receive the National Italian American Foundation (NIAF) Special Achievement Award in Entertainment during the Foundation's 39th Anniversary Awards Gala. Featured in the highly anticipated PBS documentary series "The Italian Americans," Turturro will showcase the project before thousands of black-tie guests from across the United States and Italy.

Joining Turturro as gala honorees are Daniel D'Aniello, Co-Founder and Chairman of  The Carlyle Group; Pino Cicala, Founder and Editor of AMICO and Antenna Italia Radio-TV; David Cordani, President and CEO of Cigna Corporation; Susan Molinari, Vice President of Public Policy and Government Relations at Goggle, and Pasqualino Monti, President, Port Authority of Rome Civitavecchia.

NIAF Board member and Emmy Award-winning Fox News Anchor and Global Markets Editor Maria Bartiromo, and NIAF Celebrity Ambassador, actor, entertainer and radio host Joe Piscopo, will co-host the weekend's Gala Awards Dinner. They will be joined by stage and screen celebrities Robert Davi and Tony Lo Bianco, award-winning writer and producer John Maggio, author Maria Laurino, United States Ambassador to Italy John R. Phillips, Italy's Ambassador to the United States Claudio Bisogniero, and President of Italy's Region of Lombardia Roberto Maroni.

After the Gala dinner, guests will join celebrities and honorees at the Foundation's famed After Hours Party at The Washington Hilton.

To open the weekend festivities on Friday evening, October 24, NIAF will host "The Wildest Comes to Washington" Casino Night in the Hilton International Ballroom. Casino tables, exclusive raffle items and prizes, along with an open bar, heavy hors d'oeuvres and dancing to live music by Louis Prima Jr. and the Witnesses, will begin at 8 p.m. Saturday highlights during the day include a networking breakfast; a special screening of the PBS series "The Italian Americans"; a lunch featuring an old fashioned sandwich catered by Mike's Deli of Arthur Avenue in the Bronx, N.Y., and the always popular Gala Wine Tasting featuring a selection of wines throughout Italy.

Tickets to Saturday's black-tie gala begin at $350 per person (members), $400 per person (non-members). Tickets to Friday evening's casino night begin at $200 per person. Proceeds benefit NIAF's educational programs.  For tickets or sponsor information, contact Jerry Jones at 202-387-0600 or jerry@niaf.org, or register online at www.niaf.org/gala.

The National Italian American Foundation (NIAF) is a non-profit organization dedicated to preserving and promoting the heritage and culture of Americans of Italian descent. Visit www.niaf.org.