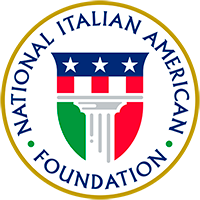 About

Join

Events

Programs

Culture

Support

Ferrero is a premier sponsor of NIAF. Learn More

NIAF 38th Anniversary Gala Weekend

FOR IMMEDIATE RELEASE

Contact: Elissa Ruffino (NIAF) 202/939-3106 or elissa@niaf.org

---

WHEN:
Friday, October 25, 2013 8 p.m. Vegas-Style Night, Live and Silent Auction, Evening Entertainment

Saturday, October 26, 2013 9 a.m.- 4:30 p.m. Events; 6 p.m. Reception; 7 p.m. Dinner and Awards

WHERE:
Friday evening: The Ronald Reagan Building and International Trade Center 1300 Pennsylvania Avenue NW, Washington, D.C.

Saturday: The Washington Hilton 1919 Connecticut Ave. NW, Washington, D.C.

Award-Winning actor and director Paul Sorvino and former CIA Director and former Secretary of Defense Leon Panetta lead the list of honorees at NIAF's 38th Anniversary Awards Gala on Saturday evening, October 26, 2013. They will receive NIAF Special Achievement Awards in Entertainment and Government, respectively.

To emcee the NIAF gala, Maria Bartiromo, Emmy Award-winning journalist and CNBC Anchor, will join comedian and actor Joe Piscopo on stage at one of the largest black-tie galas in the nation's capital.

This year's gala honorees also include:
Diana Bracco, CEO and President of Bracco S.p.A., will receive the NIAF Special Achievement Award in Philanthropy.

Roberto Colaninno, Chairman and CEO of Piaggio & C. S.p.A., will receive the NIAF Special Achievement Award in International Business.

Louis Donatelli, Founder and Chairman of Donatelli Development Inc., will receive the NIAF Special Achievement Award in Business.

George Randazzo, Founder and Chairman of the National Italian American Sports Hall of Fame in Chicago, will receive the NIAF Italian American Community Leadership Award.

To open the evening's festivities, singer and songwriter

Giada Valenti

will sing "Inno di Mameli," Italy's national anthem. This year's gala will be chaired by NIAF Vice Chairman

Louis J. Freeh

, former director of the Federal Bureau of Investigation and chairman of Pepper Hamilton LLP and Freeh Group Int'l Solutions.

Mike Piazza

, 12-time MLB All-Star, actor

Tony Lo Bianco

, and Miss DC

Jessica Firth

, will join other notables and guests from cities across the United States and Italy during the gala weekend special events including the popular NIAF After Hours Celebration.

To kick off the gala weekend on Friday evening, October 25 NIAF will host the Foundation's "Come Fly With Me" Vegas-Style Evening in the atrium of the Ronald Reagan Building. Casino tables, the ever popular live and silent auction with exclusive auction packages, along with an open bar, hors d'oeuvre stations and dancing to music of the renowned Radio King Orchestra, will begin at 8 p.m.

Saturday highlights include a networking breakfast; a special movie screening of "Carnera: The Walking Mountain"; a discussion of the state of the Italian American community at "Ieri, Oggi, Domani"; and a sit-down Wine Tasting and Luncheon,featuring a selection of wines throughout Italy, including NIAF's 2013 Region of Honor, Campania.

Tickets to Saturday's black-tie gala begin at $350 per person (members), $400 per person (non-members). Proceeds benefit NIAF's educational programs. For tickets or sponsor information, contact Jerry Jones at 202-387-0600 or jerry@niaf.org, or register online at www.niaf.org/gala.Reserve a room in special discounted NIAF room block at the Washington Hilton at www.niaf.org/hilton.

The National Italian American Foundation (NIAF) is a non-profit organization dedicated to preserving and promoting the heritage and culture of Americans of Italian descent. Visit www.niaf.org.