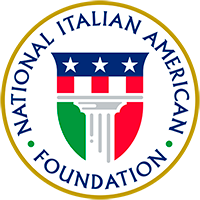 About

Join

Events

Programs

Culture

Support

National Italian American Foundation Announces 2021 Region of Honor: Abruzzo

FOR IMMEDIATE RELEASE

CONTACT:
Gabriella Mileti
gmileti@niaf.org
+1-202-939-3116

---

(Washington, D.C. – June 18, 2021) The National Italian American Foundation (NIAF) is pleased to announce its 2021 Region of Honor: Abruzzo. Each year, NIAF collaborates with a region in Italy by promoting its culture, business and tourism in the United States, while also traveling to the region to promote cultural exchange. The region will also be prominently honored at the NIAF 46th Anniversary Gala, October 23, 2021 in Washington, D.C.

Chairman Robert E. Carlucci, and members of the Foundation's executive committee and Board of Directors, will travel to Abruzzo this fall, following two days of meetings in Rome with the NIAF Board and Italian political figures. This annual "Mission to Italy" brings together NIAF's leaders and business and government leaders to discuss key issues influencing cultural, economic and diplomatic relations between our two nations, in Abruzzo. While visiting the 2021 Region of Honor, NIAF leadership will explore the region's notable historic sites and meet with the President of the Region of Abruzzo, the Hon. Marco Marsilio, as well as with regional business leaders.

"Abruzzo offers an authentic Italian experience with its wonderful natural landscapes, centuries-old villages, delicious food and wine, miles of Adriatic coastline and rugged mountainous scenery," said NIAF Chairman Robert E. Carlucci. "I am looking forward to visiting Abruzzo because it is a region that many Italian Americans trace their Italian ancestry from, including myself. My father's family emigrated to the United States from Abruzzo."

Traditionally, during the NIAF Mission to Italy, the delegation meets the students of the Ambassador Peter F. Secchia Voyage of Discovery. The Ambassador Peter F. Secchia Voyage of Discovery Program looks forward to returning to Italy next summer when students will have the chance to see, feel and taste the land of their ancestors. Included in the trip are tours of heritage and cultural sites and of course, a day of service the give back to the local community.

Situated between Lazio, Marche and Molise, Abruzzo boasts beautiful Adriatic beaches, medieval towns full of history, ski slopes on the Apennine Mountain range, and plenty of stunning nature. A third of the region consists of national parks, making it Italy's most rural region. Abruzzo's indigenous wildlife is an Italian treasure, which includes the golden eagle, the Apennine wolf, the antelope-goat-like Chamois and, most famously, the Marsican brown bear (a critically endangered species that can only be found in the Parco Nazionale d'Abruzzo, Lazio e Molise). Its vast natural splendor includes seven picturesque lakes, such as the famous heart-shaped Lake of Scanno. Abruzzo's national parks and mountain ranges, among them the Gran Sasso (meaning "Big Rock") and Maiella Massif, which slope all the way down to the coast of the Adriatic, offer an abundance of outdoor activities, including hiking, skiing, mountain biking, climbing and paragliding.

With the diverse landscapes of the region, farming and fishing are prominent. Like everywhere in Italy, Abruzzo has a long history of pasta-making along with other rich food and winemaking traditions. For example, Abruzzo is one of the leading suppliers of truffles, 60 percent of Italian truffles come from Abruzzo and Molise. Many precious white truffles sold in Alba, Piemonte, come from Abruzzo, where the climate offers a perfect environment for the growth of several varieties of truffles: the white truffle, black truffle, two types of summer truffles, the winter truffle, and the bianchetto truffle.

NIAF and the region of Abruzzo have worked together in the recent past—in a time of crisis. Abruzzo made international headlines in April of 2009 when a 6.3 magnitude earthquake shook the region and the lives of tens of thousands of its citizens. The NIAF-Abruzzo Relief Fund raised $1.8 million for relief efforts, while a public-private partnership between NIAF and the State Department helped bring 52 displaced University of L'Aquila students to the United States to continue their studies at American universities. The Foundation was inspired by the generous financial support the Italian American community donated to provide relief efforts to residents of Abruzzo.

The Foundation looks forward to celebrating the history, culture, and industry of Abruzzo, as well as promoting the region on social media platforms, Ambassador magazine, virtual events, and beyond. Follow our posts on social media with #NIAFeAbruzzo.

To learn more about Abruzzo, visit www.niaf.org/abruzzo.

To learn about past regions of honor, visit www.niaf.org/regionofhonor.

To learn more about the Ambassador Peter F. Secchia Voyage of Discovery, visit: www.niaf.org/voyage.

---

The National Italian American Foundation (NIAF) is a non-profit, non-partisan organization dedicated to preserving, promoting, and protecting the Italian American heritage and culture. To learn more about the Foundation and become a member, please visit www.niaf.org.