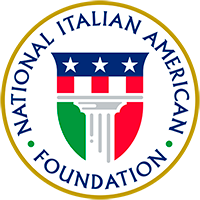 About

Join

Events

Programs

Culture

Support

Ferrero is a premier sponsor of NIAF. Learn More

Leaders In Business And Entertainment Honored In NYC

FOR IMMEDIATE RELEASE

Contact:   Elissa Ruffino (NIAF) 202/939-3106 or elissa@niaf.org

---

**An Outstanding Evening at Cipriani 42nd Street**

*Good Day New York's Rosanna Scotto Emceed NIAF Gala*

(Washington, D.C. – April 8, 2013) Business executives Mark J. Casella, a partner at PricewaterhouseCoopers LLP; Gerald A. Donini, chief operating officer of Corporate and Investment Banking at Barclays; Dino Fusco, managing director and global head of real estate at Goldman Sachs & Co.; and Tony May, owner of contemporary Italian restaurant SD26, were honored at the National Italian American Foundation's (NIAF) New York Spring Extravaganza: A Couture Evening at Cipriani 42nd Street on April 4, 2013.

From the entertainment industry, actress Annabella Sciorra was honored with a NIAF Special Achievement Award in Entertainment.

The famous Bellini cocktail invented by Giuseppe Cipriani was served during a reception at the legendary Italian Renaissance-inspired Cipriani 42nd Street in New York City. NIAF's Chairman Joseph V. Del Raso, Esq., welcomed the guests to the Foundation's annual dinner. "Tonight, I see so many people committed to their heritage and community that it reminds us all exactly what we set out to preserve. On behalf of NIAF's family, let me thank you for your support, confidence and belief in NIAF and our mission," Del Raso said.

The gala's mistress of ceremonies, Rosanna Scotto, co-host of Good Day New York, was warmly welcomed by the more than 600 guests. She thanked gala chairman Gerard S. LaRocca, NIAF board member and chief administrative officer, Americas, Barclays Capital and honorary dinner chairman Mario Mercurio, senior vice president, PepsiCo Americas Beverages, for making the NIAF gala a spectacular event.

Before the guests dined on Italian specialties including fresh Burrata with marinated pear tomatoes, Monsignor Jamie Gigantiello gave the invocation. Actress, singer and dancer Christina Carlucci, a recent graduate of New York University Tisch School of Arts, sang the U.S. national anthem. She was joined by famed Italian Australian singer ALFIO, who sang "Inno di Mameli," Italy's national anthem.

At the podium, Scotto kicked off the awards ceremony. Mark Casella, who leads PricewaterhouseCoopers' Alternative Investments Practice and also serves as managing partner of Financial Services for PwC, received NIAF's Special Achievement Award in Accounting Services. Tony May, legendary restaurateur, received NIAF's Special Achievement Award in the Food Industry.

Barclays' Jerry Donini congratulated his son on his birthday that evening as he received NIAF's Special Achievement Award in Financial Services. "We all have the same story. I would certainly like to honor my parents, my wife and my children," Donini said.

Dino Fusco of Goldman Sachs & Co. received NIAF's Special Achievement Award in Real Estate Services. Fusco spoke about his childhood experiences growing up in an Italian household in Hartford, Conn. What was routine in my neighborhood including mozzarella, tomato and pesto paste sandwiches for school lunches, women dressed in black and green-energy vegetable gardens are now chic and routine in today's society, Fusco recounted to the guests.

To add to the evening's excitement, Italian American tenor Roberto Iarussi, who is recognized as the most important Italian American tenor since Mario Lanza, performed "I Believe" from his debut album. The guests gave him a standing ovation after his performance.

NIAF's President and Chief Operating Officer John M. Viola asked the guests to be generous and raise their hands high during the live auction supporting NIAF and young Italian American leaders of tomorrow. The lively bidding began with a custom family research package from Roots in the Boots, NIAF's Official Italian American Genealogy Partner; a 2013 MLB All Star Game Package for four people from PepsiCo Americas Beverages and ended with the ultimate New York Yankees Fan Package.

Joining the honorees and guests were Italy's Consul General in New York, Natalia Quintavalle; actor Danny Aiello; Italy's Ambassador to the United Nations Mission, Antonio Bernardini; former Italian Congressman, Amato Berardi as well as NIAF's Vice Presidents in the Greater New York region Susan Paolercio and Nicholas R. Caiazzo.

Earlier in the week NIAF kicked off its 2013 series of the Frank J. Guarini/NIAF Media Forums in the media capital of the world, New York City. NIAF Chairman Emeritus Hon. Frank J. Guarini welcomed the guests to the Pepper Hamilton offices in the New York Times Building. NIAF's John Viola introduced the distinguished panelists: Carol A. Giacomo, editorial board member of The New York Times;Maurizio Molinari, bureau chief of La Stampa; and Fernando Napolitano, president and CEO of the Italian Business & Investment Initiative: Why Italy Matters to the World." They discussed Italy's unprecedented election results and what the results mean for Italy, Europe and the World.

The NIAF New York Gala proceeds support the Foundation's philanthropic and educational programs. NIAF thanks this year's presenting sponsors including Barclays; PepsiCo Americas Beverages; PricewaterhouseCoopers LLP and Virtu Financial.

The National Italian American Foundation (NIAF) is a non-profit organization dedicated to preserving and promoting the heritage of Italian Americans. Visit www.niaf.org.