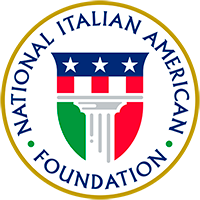 About

Join

Events

Programs

Culture

Support

Ferrero is a premier sponsor of NIAF. Learn More

Community Leader Alfred M. Rotondaro to be Honored at NIAF's 40th Anniversary Gala in Washington, D.C.

FOR IMMEDIATE RELEASE

Contact: Elissa Ruffino, 202-939-3106, elissa@niaf.org

____________________________________________________________________________________________________

(WASHINGTON, D.C. – October 16, 2015) Alfred M. Rotondaro, senior fellow at the Center for American Progress and former executive director of the National Italian American Foundation (NIAF), will be honored at the Foundation's 40th Anniversary Awards Gala in Washington, D.C.  Rotondaro will receive the NIAF Italian American Community Leadership Award on October 17, 2015, at the Washington Marriott Wardman Park. The black-tie event begins with a 5:30 p.m. reception followed by dinner and an awards ceremony.

Honorees joining Rotondaro include Amato L. Berardi, founder of Berardi & Associates Inc., and former member of the Italian Parliament; Richard E. Caruso, Ph.D., founder and director of Integra LifeSciences; Connie Francis, Italian American music legend; Mario Gabelli, founder, chairman and CEO of GAMCO Investors Inc.; Sergio Marchionne, CEO of Fiat Chrysler Automobiles N.V.; Franco Nuschese, president of Georgetown Entertainment Group LLC; Steve Perillo, president and owner of Perillo Tours; and Josephine J. (Gargiulo) Templeton M.D., trustee of the John Templeton Foundation.

As a senior fellow at the Center for American Progress, Rotondaro concentrates on issues of poverty and race. Before joining the Center, Rotondaro served for 22 years as NIAF's executive director. Previously, he served as a journalist and a university professor, as well as serving as the executive director of the York County, Penn., anti-poverty agency.

Rotondaro is a board member of the Greater Washington Urban League, the International Review of African American Art, the National Colonial Farm, the Faith and Public Policy Institute, and the Advisory Council of the Arab American Institute. He earned an undergraduate degree from the University of Scranton, a master's degree in English from Creighton University and a doctorate in American studies from New York University. He also received an honorary doctorate from Wheeling College.

Besides NIAF's distinguished honorees, celebrities and entertainment take center stage during NIAF Gala Weekend to celebrate a milestone in its history. As part of NIAF's lineup of celebrities, actors Danny Aiello, Chazz Palminteri and Annabella Sciorra; singer and songwriter Giada Valenti; performer Tom Sinatra; The Washington Chorus; The Sicilian Tenors, Aaron Caruso, Elio Scaccio and Sam Vitale, will join Il Volo's Piero Barone, Ignazio Boscetto and Gianluca Ginoble, as part of the weekend performances.

NIAF Board Member and Emmy Award-winning Fox News Anchor and Global Markets Editor Maria Bartiromo and SNL legend, NIAF Celebrity Ambassador, actor, entertainer and radio host Joe Piscopo will co-host one of the most popular galas in our nation's capital.  To open the weekend festivities on Friday evening, October 16, Piscopo and celebrity guests will celebrate Frank Sinatra's 100th birthday and honor the legacy of Sinatra with the crooner's celebrated melodies from his songbook.

NIAF's 40th Anniversary Weekend is presented by Alitalia, the airline that brings the best of Italy to the world. Tickets to Saturday's Gala begin at $400 per person. Young professional tickets cost $200 per person available only by phone.  Tickets to Friday evening's celebration of Frank Sinatra's 100th birthday cost $200 per person.  Proceeds benefit NIAF's educational programs.  For tickets or sponsor information, contact Jerry Jones at 202-387-0600 or jerry@niaf.org, or register online at https://www.niaf.org/40.

The National Italian American Foundation (NIAF) is a non-profit organization dedicated to preserving and promoting the heritage and culture of Americans of Italian descent. Visit www.niaf.org..