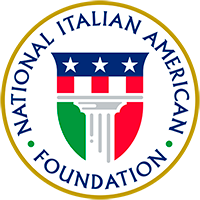 About

Join

Events

Programs

Culture

Support

Chicago Journalists Advance Italian-American Agenda

FOR IMMEDIATE RELEASE

Contact:   Elissa Ruffino (NIAF) 202/939-3106 or elissa@niaf.org

---

CHICAGO JOURNALISTS
ADVANCE ITALIAN-AMERICAN AGENDA
*NIAF Media Networking Forum at The National Italian American Sports Hall of Fame*

(WASHINGTON, D.C. — January 15, 2009) A Level Playing Field… The Italian American Agenda in Chicago was the theme of the National Italian American Foundation's (NIAF) sixth annual media networking forum on January 13, 2009. Prominent community leaders spoke to an audience of more than 30 journalists of Italian ancestry about the importance of preserving the rich history of Italian Americans and raising awareness of its culture. The luncheon, underwritten by The National Italian American Sports Hall of Fame (NIASHF), was hosted by George R. Randazzo, founder and president of the NIASHF, and Robert V. Allegrini, NIAF regional vice president for the Midwest and vice president of corporate communications for the Americas of the Hilton Hotels Corporation. The event was co-chaired by James J. Corno, president of Comcast SportsNet Chicago, and Miriam Di Nunzio, weekend editor of the Chicago Sun-Times.

NIAF area coordinators Gerard V. Centioli, John C. Sciaccotta and James A. Tognoni. Dominic Di Frisco, president emeritus of the Joint Civic Committee of Italian Americans, Alessandro Motta, Italy's Consul General in Chicago, and Melissa Tussing, a participant of the NIAF Voyage of Discovery program, also attended the event.

In order to build upon this agenda, as well as energize the Italian-American community, Allegrini called upon four respected community leaders to showcase their noteworthy projects for 2009:
• John Nitti, chairman of Cook Italy, outlined how he is teaching disadvantaged children at Mercy Home how to prepare and enjoy Italian dishes while learning about healthy nutrition;
• Fulvio Calciardi, executive director of the Italian American Chamber of Commerce, highlighted the events surrounding the third annual Italian-Style show promoting the rich culture of Italy and Italian Americans which will be held July 17-19 at Navy Pier;
• Paula Waters of The Milan Chicago Sister City Committee, discussed the more than 20 year sister-city partnership between the cities of Chicago and Milan that continues to foster cultural, business and educational exchanges;
• George Randazzo announced the release of the upcoming film "Bravissimo," an in-depth study of Italian Americans in sports.
Similar media events are planned in February in Phoenix, Los Angeles and San Francisco.

The National Italian American Foundation (NIAF) is a non-profit, non-partisan foundation dedicated to promoting the contributions of Italian Americans. The Foundation has a wide range of programs that provide scholarships and grants, conferences and cultural seminars. Visit our Web site at www.niaf.org.