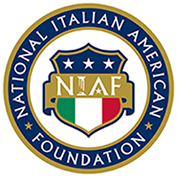 About

Support

Membership

Programs

Culture

Andrea Bocelli Concerts in New York City, Long Island and Washington, D.C. NIAF Private Receptions at Madison Square Garden & MCI Center

FOR IMMEDIATE RELEASE 

Contact:   Elissa Ruffino (NIAF) 202/939-3106 or elissa@niaf.org

---

(WASHINGTON, DC—November 8, 2005) Acclaimed Italian tenor Andrea Bocelli will perform Wednesday evening, November 30, at Nassau Coliseum in Uniondale, NY; Thursday evening, December 1, at the MCI Center in Washington, D.C.; and Friday evening, December 2, at Madison Square Garden in New York City. The National Italian American Foundation (NIAF) will host a private reception immediately following Bocelli's concerts in Washington, D.C. and New York for people who have purchased their premium concert tickets through the Foundation to benefit the NIAF/Bocelli Scholarship in Music. The NIAF has secured some of the best seats in the house, including select first-row seats.

"Andrea Bocelli is one of the great tenors of our era and a special friend to the Foundation. NIAF has been a partner in Bocelli's U.S. tours with private post-concert receptions to benefit the NIAF/Bocelli Scholarship in Music for the past six years," Dr. A. Kenneth Ciongoli, NIAF chairman, said.

A longtime NIAF supporter, Bocelli established a scholarship in his name through the Foundation in 2003. Bocelli received NIAF's U.S./Italy Friendship Award during the NIAF gala in October 2000. He also performed via satellite with the Boccherino Institute Youth orchestra from Lucca, Italy in honor of the Foundation's 25th anniversary. In 1998, Bocelli opened the NIAF Gala in Washington, D.C., with his rendition of Italy's national anthem.

Bocelli has sold more than 20 million CDs worldwide since he entered the American music scene in 1997 with the release of his CD, Romanza, and the single "Con Te Partir" (Time To Say Goodbye). Romanza topped the charts in more than 13 countries and sold more than 500,000 copies in the U.S. alone during the first three months of its release. In 1999, Bocelli received his first Grammy nomination for Best New Artist, while four of his albums charted simultaneously on the Billboard Top 200 chart, a feat achieved only twice in recent memory, by Garth Brooks and U2. Millions of Americans continue to watch his PBS television specials and listen to his four platinum albums, Romanza, Aria, Sogno, and Sacred Arias. Bocelli's first complete opera recording, La Bohme, was released in 2000. His recent CDs, Andrea, Sentimento and Puccini's Tosca, have been well-received and have further secured the tenor's place in Italian music history.

The NIAF benefit concert and private reception package will sell for $300 per person (no further than 10 rows back), with the proceeds to benefit the NIAF/ Bocelli Scholarship in Music. A limited number of first-row seats for $500 are available for Nassau Coliseum only. All seats are in the VIP section. The VIP tickets with post-concert reception will be sold on a "first-come, first-served basis." For tickets, contact: Kristi Pappalardo at 202/939-3109, kristina@niaf.org or visit www.niaf.org

The National Italian American Foundation (NIAF) is a non-profit organization based in Washington, DC and dedicated to preserving the heritage of Italian Americans. Visitwww.niaf.org.