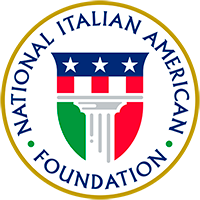 About

Join

Events

Programs

Culture

Support

Ferrero is a premier sponsor of NIAF. Learn More

West Coast Gala 2012 Review

The National Italian American Foundation's (NIAF) West Coast Gala at the Fairmont San Francisco Hotel, on June 21, 2012, celebrated the Italian American heritage and culture while honoring Silicon Valley leaders Kim Polese of ClearStreet and Roberto Crea, Ph.D., of CREAGRI Inc., environmental pioneer John A. Legnitto of Recology, Italian design leader Anna Paola Snaidero of Snaidero USA, and authors Aili and Andres McConnon.

The evening began with a cocktail reception in the hotel's Fountain and Crystal Room followed by dinner in the Venetian Room. Radio personality Filippo Voltaggio sang the U.S. and Italian national anthems.

At the podium, NIAF President Joseph V. Del Raso, Esq., welcomed more than 200 guests to the Foundation's annual West Coast Gala. "Tonight, Italian Americans in all fields come together, not only to celebrate our heritage but to take a moment to recognize the accomplishments of some very special and innovative members of our Italian American family," said Del Raso.

Del Raso recognized the gala's co-chairs Jeffrey M. Capaccio, Esq., and Marcella Leonetti-Tyler, NIAF regional vice presidents for the far west (north) and far west (south) respectively, and thanked the Foundation's leadership that was present, including Gabriel A. Battista, Robert E. Carlucci, Joseph M. Della Ratta, Arthur J. Furia, Frank Giordano, Joseph D. Lonardo, Esq., Giacomo Marini, Hon. Anita Bevacqua McBride and John F. Scarpa, for their support.

NIAF Chief Operating Officer John M. Viola, who served as the master of ceremonies, kicked off the evening's awards ceremony introducing the honorees. Snaidero, vice president of advertising and public relations of Snaidero USA, received the NIAF's Special Achievement Award in Business. Roberto Crea, Ph.D., chief executive officer, founder and president of CREAGRI Inc., accepted the NIAF Special Achievement Award in Biotechnology (Science and Medicine). Polese, chairman of ClearStreet Inc., received the NIAF Special Achievement Award in Technology. Legnitto, vice president and group manager for the San Francisco region at Recology, accepted the NIAF Special Achievement Award in Environmental Citizenship.

NIAF also honored Aili and Andres McConnon, coauthors of "Road to Valor: A True Story of World War II Italy, the Nazis, and the Cyclist Who Inspired a Nation." Published in June, the book chronicles the life of Gino Bartali, champion Italian cyclist and World War II hero, whose legendary story reflects the Italian soul and character. Bartali used his bicycle to save the lives of Jews when the Nazis occupied Italy. The McConnons, who are siblings, received the Mazzei Award in Thought Leadership for their outstanding contributions to research, scholarship and innovative thinking.

In addition to the honorees, the Gala also showcased San Francisco's vibrant international community while celebrating the rich heritage of Italians and Italian Americans. Blues guitarist and musician Johnny Rivers along with Hollywood great Frank Mancuso led the list of celebrities who attended the event.

During the program, Viola asked guests to turn their attention to the video screens and view the web page of the Italian American Relief initiative at www.ItalianAmericanRelief.org, an effort uniting Italian American organizations, corporations and individuals with a single objective of assisting our Motherland in times of need. The coordinated effort will provide immediate response whenever natural catastrophes and other disasters occur in Italy. He announced that the Chrysler Foundation has agreed to donate $100,000 and will partner with NIAF on this initiative.

Highlights of the evening also included a live auction of an overnight stay at The Fairmont Miramar Hotel in Santa Monica, paired with dinner for two at Drago Centro followed by backstage passes to ABC-TV's Jimmy Kimmel Live! Also on the bidding block was an overnight stay in one of the suites of the Fairmont San Francisco Hotel with breakfast and a rental of a Fisker automobile. Throughout the evening, guests enjoyed wines from Italy's Le Marche and Veneto regions.

The evening before, NIAF hosted the second in the series of Frank J. Guarini/NIAF Media Forums in San Francisco. NIAF's John M. Viola and Jeff Capaccio welcomed guests to the Italian Consular Residence of Italy's Consul General Fabrizio Marcelli in the Pacific Heights area of the city.

NIAF President Joseph Del Raso introduced the distinguished speaker Aili McConnon, co-author of "Road to Valor: A True Story of World War II Italy, the Nazis, and the Cyclist Who Inspired a Nation." McConnon gave an overview of how she and her brother, Andres, decided to research the story of the legendary Italian cycling champion. She explained that Bartali was the "Joe DiMaggio of Italy, he permeated Italian society and was a man of internal conviction."

Journalists, media professionals and Gabriella Ziccarelli, a NIAF scholarship recipient in 2012 and J.D. law candidate at Santa Clara University, were joined by NIAF leadership at the event. Also on hand was Italy's new Consul General in San Francisco, Mauro Battocchi, who will succeed Marcelli. To close the evening, Marcelli awarded the distinction of Officer of the Order of Merit of the Italian Republic to Capaccio. Everyone gave him a standing ovation as they finished their dinner with desserts specially prepared by Fabrizio Galla and Gary Rulli of Ristobar.

The NIAF West Coast Gala proceeds support the Foundation's philanthropic and educational programs. Virtu Financial LLC was a West Coast Gala Platinum Sponsor of the evening. CREAGRI Inc., De Cecco USA/PMI, Del Grosso Foods Inc., Emporio Rulli, Snaidero USA and Villa Italia joined NIAF as sponsors.