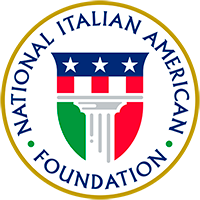 About

Join

Events

Programs

Culture

Support

Ferrero is a premier sponsor of NIAF. Learn More

West Coast Gala 2011 Review

An Evening of La Dolce Vita at NIAF's West Coast Gala in Santa Monica

Hollywood's A-list of celebrities including Oscar nominated producer Dana Brunetti; former American Idol judge Kara DioGuardi; actor, screenwriter and director Jon Favreau; Dodgers great Tommy Lasorda; Emmy and Golden Globe Award winner Gary Sinise and E! News Giuliana DePandi-Rancic gathered to enjoy an evening of La Dolce Vita and salute their colleagues and fellow honorees at the National Italian American Foundation (NIAF) West Coast Gala on May 19, 2011.

The evening began with a cocktail reception under the magnificent Moreton Bay Fig Tree at the Fairmont Miramar Hotel & Bungalows in Santa Monica. The gala's master of ceremonies, actor Joe Mantegna opened the festivities in the hotel's Starlight Ballroom teaming with celebrities to introduce NIAF's President Joseph V. Del Raso, Esq. and the gala co-chairs Marcella Leonetti-Tyler, NIAF's regional vice president for the far west region south, and Jeffrey M. Capaccio, Esq., a member of NIAF's Board of Directors and regional vice president for the far west region north.

Before more than 400 guests, Democratic Leader Nancy Pelosi kicked off a special tribute to the late Joseph R.Cerrell, a former NIAF vice chairman and a legendary Los Angeles public affairs consultant who served NIAF for 16 years and cofounded Cerrell Associates Inc. in 1966. "Joe was one of the strongest bridges between the U.S. and Italy," Pelosi said. Gene Casagrande, a dear friend of the Cerrell family and former member of NIAF's Board of Directors, and actor Robert Davi gave moving speeches as part of the tribute. They were joined by Italy's Consul General in Los Angeles Nicola Faganello and members of the Cerrell family. Sharon Cerrell Levy accepted the award on behalf of the family. She noted, "Joe Cerrell definitely left behind a great and powerful legacy that has transformed the course of many lives."

During the black-tie gala, DePandi-Rancic presented a NIAF Lifetime Achievement Award in Music to DioGuardi. "Kara is a true example of what an Italian American looks like," said DePandi-Rancic. The guests rose to their feet when twelve-time MLB All-Star Mike Piazza presented Lasorda with a NIAF Lifetime Achievement Awards in Sports Management.

To add to the evening's excitement, comedian and actor Jeffrey Ross presented the Foundation's Special Achievement Award in Entertainment to Favreau. Congratulating Sinise with the Foundation's Special Achievement Award in Entertainment was his dear friend, Mantegna. Famed director and writer Robert Luketic was on hand to present Brunetti with a NIAF Special Achievement Award in Business and Entertainment. California trial lawyer Thomas V. Girardi accepted a NIAF Special Achievement Award in Law presented by Hon. Stephen P. Larson.

Joining the honorees were Olympic Gold Medal figure skater and Food Network TV chef Brian Boitano; actor Francesco Quinn as well as TV and film star Brenda Vaccaro.

Also part of the evening's activities was a live auction featuring lunch with Grammy nominated songwriter DioGuardi, a special dinner prepared by Boitano, autographed memorabilia by Lasorda and Piazza as well as an 18-karat gold and diamond pendant.

During the gala, Kenneth J. Aspromonte, former major league baseball player and manager for the Cleveland Indians, and a NIAF vice president for the southwest region, presented a scholarship in his name to Mika Ciotola, a junior at the University of California at Berkeley who is majoring in political science.

Actor and singer Franc D'Ambrosio, of "Phantom of the Opera," sang the U.S. national anthem and entertained guests. He was joined by actress and singer Christina Carlucci, a student at New York University Tisch School of Arts, who sang "The Prayer" as well as the Italian national anthem. The guests gave them a standing ovation when they closed with a duet.

Earlier in the day, NIAF hosted its G2L Communication's Workshop at the hotel with DePandi-Rancic, Piazza, Davi and Doug DeLuca, the Foundation's area coordinator in Hollywood and an executive producer of "Jimmy Kimmel Live!" Presentations by Anthony D' Alessandro, feature reporter at Thompson on Hollywood/Indie WIRE; Bill Cipolla, entertainment producer at FOX-II "Good Day LA"; Bill Schneider, CNN political columnist and professor at George Mason University; and Paolo Sigismondi, Ph.D., clinical assistant professor at the Annenberg School of Communications & Journalism, were part of the morning session. "The goal of the program is to inspire and educate young Italian American students with firsthand experiences and advice from professionals in the entertainment and communications industry," said Matthew J. DiDomenico, Sr., NIAF's senior executive vice president and chairman of the NIAF Education Committee.

Additionally, NIAF's Board of Directors will award a special grant to The Lorenzo DaPonte Italian Library Project at the University of California Los Angeles (UCLA) to celebrate Italia@150, Italy's anniversary of unification during a special reception at the Italian Cultural Institute of Los Angeles on May 20, 2011. A series of 12 out of 100 major works by Italian authors will be translated into English through the Foundation's grant.

The NIAF West Coast Gala proceeds support the Foundation's scholarship and educational programs. Casa Torelli Wines, Dodgers Dream Foundation, Pepper Hamilton LLP, DelGrosso Foods Inc. and Wells Fargo Foundation joined NIAF as platinum sponsors for the evening.