The National Italian American Foundation is excited to announce the launch of the NIAF Congressional Fellowship Program. Beginning in fall 2019, the Foundation will place outstanding Italian American college students and recent graduates in offices of members of the Italian American Congressional Delegation (IACD) to encourage and support the next generation of Italian American leadership.  Fellows are expected to commit 20 to 40 hours a week for 12 weeks from September to December.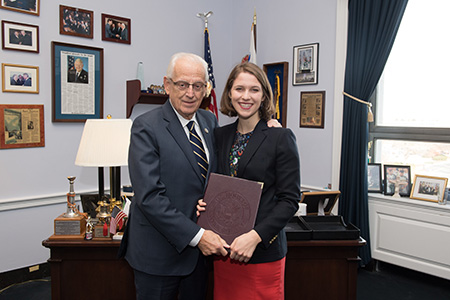 Natalie Wulderk, a 2017 NIAF Congressional Fellow
with Representative Bill Pascrell. 
Five students and/or recent graduates will be selected as NIAF Congressional Fellows and will travel to Washington D.C. to work in a Congressional office during the fall of 2019. NIAF will award fellows with a stipend of $1000 to aid with travel and living expenses while in Washington. Fellows will also receive training at NIAF headquarters and will be invited to participate in NIAF events throughout the fall, including NIAF Public Policy Forums and our 44th Annual Gala Weekend from October 31- November 3.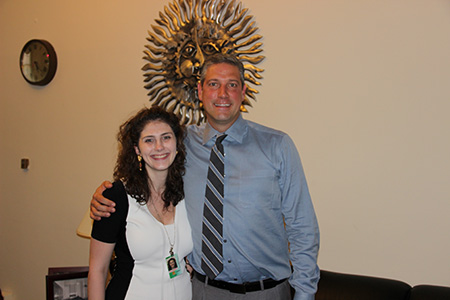 Clare Amari, a 2017 NIAF Congressional Fellow
with Representative Tim Ryan.
This fellowship serves as an opportunity for first-hand experience in public service for the next generation of Italian American political leaders. Fellows will learn about the legislative process, issues facing Congress, and the operations of a Congressional office while working for an Italian American leader who has climbed the ladder of public policy success.
NIAF is nonpartisan and serves as an important voice for Italian Americans in Washington, DC. The Foundation works closely with Congress, The White House, the Department of State, the U.S. Embassy in Rome, and the Embassy of Italy in Washington to promote Italian American heritage and serve as a bipartisan educational foundation. As a unified voice on issues of importance to Italian Americans, the Foundation builds relationships with key decision makers on behalf of the Italian American community and serves as a resource and thought leader for politicians, policy makers, and diplomats.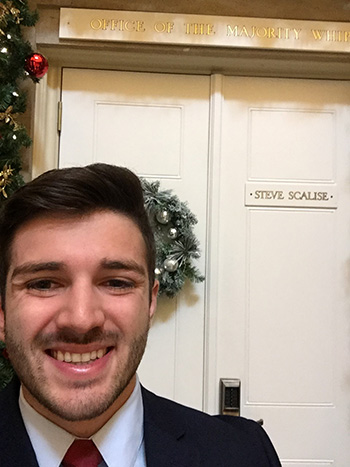 John Mucciolo, a 2017 NIAF Congressional Fellow takes a selfie
outside the office of Majority Whip Steve Scalise.
The following offices will accept NIAF Congressional Fellows during the fall of 2019:
Rep. Mark Amodei (NV-2)
Rep. Peter DeFazio (OR-4)
Rep. Rosa DeLauro (CT-3)
Rep. Mike Doyle (PA-14)
Sen. Michael Enzi (WY)
Rep. Virginia Foxx (NC-5)
Rep. Doug LaMalfa (CA-1)
Rep. Joseph Morelle (NY-25)
Rep. Bill Pascrell (NJ-9)
Rep. Steve Scalise (LA-1)
Rep. Elise Stefanik (NY-21)
Rep. Thomas Suozzi (NY-3)
Rep. Brad Wenstrup (OH-02)
ELIGIBILITY REQUIREMENTS:
Students must be members of the National Italian American Foundation. Not a member? CLICK HERE to join today!
Students must be a junior or senior in college, or in the first year out of college, at beginning of internship date
Students must have at least one Italian great-grandparent.
Students must provide TWO references who are either current/former employers or supervisors or current/former professors. Please do NOT include family members.
Students must email a resume to fellowship@niaf.org
Preference will be given to students who have never previously held an internship on Capitol Hill.
IMPORTANT:  NIAF will only accept online applications (no exceptions). 
Please note that NIAF cannot guarantee that Fellows will receive school credit for their fellowship. Fellows who are interested in receiving college credit should be in contact with their university career center and an academic advisor.
Application Status: CLOSED
Application Deadline: Friday, May 31, 2019, 11:59 p.m. PT