FOR IMMEDIATE RELEASE
Contact:   Elissa Ruffino (NIAF) 202/939-3106 or elissa@niaf.org
---
(Washington, D.C. – February 14, 2012) John Viola, former executive director of the Pope John Paul II Family Academy and the Madonna Della Neve Foundation in Brooklyn, N.Y., has been named Chief Operating Officer of the National Italian American Foundation (NIAF), effective February 6, 2012. His appointment was confirmed by NIAF Chairman and Chief Executive Officer Jerry Colangelo.
"John brings a wealth of experience and knowledge in the management of non-profit organizations. His professional expertise coupled with the love of his Italian heritage suits him perfectly for this position," said Colangelo.
"His expertise in strategic planning will ensure the continued success of NIAF, not only as the premier Italian American organization in the United States, but globally as well," said NIAF President Joseph V. Del Raso, Esq.
"I am truly honored that NIAF has entrusted me to oversee the direction of this Foundation. It's a dream job! I look forward with great enthusiasm to working with this great team as we further establish NIAF's goals and mission here and in Italy," said Viola.
A long-time supporter of NIAF, Viola previously served on the Foundation's Italian American Youth Activities Committee with co-chair Giuliana DePandi-Rancic, managing editor of E! News. The NIAF committee plans programs and develops strategies for today's Italian Americans as well as young people of all ethnicities.
A native of Brooklyn, N.Y., Viola is a graduate of Fordham University in New York City. His paternal ancestors emigrated from Italy's Campania region (Valle Del Diano in the province of Salerno). His maternal grandparents hail from the regions of Puglia (Pallo del Colle) and Sicily (Palermo).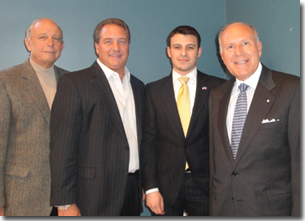 NIAF Treasurer Gabriel A. Battista, Executive Vice President Dr. John P. Rosa, Chief Operating Officer John Viola and President Joseph V. Del Raso, Esq.
The National Italian American Foundation (NIAF) is a non-profit organization dedicated to preserving and promoting the heritage and culture of Americans of Italian descent. Visit us at www.niaf.org